Unroll that yoga mat and lace up your trainers, it's time for Move in May 2021!
Once again we're challenging you to do something active every day during May – this year with the added bonus of reconnecting with friends and family outdoors, as we begin to move out of lockdown across the UK.
It could be meeting family and friends for a walk in the park, doing some daily yoga practice, kicking a ball around with the kids, or heading out on your bike.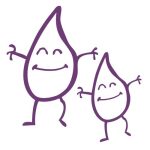 The Milk Family will once again be along for the ride and will be cheering you along every step of the way.
Take a look at the printable Milk Family activity tracker.
We simply want you to join us as we begin to reconnect with each other. 
To make it easy to take part, we have put together lots of fun ideas and mini challenges to keep the whole family motivated and will keep adding to them throughout the month.
Participation is totally free – and you don't need to fundraise if it's too much to take on this year.
Don't want to register, but still want to take part?
That's fine with us, but remember that we won't be able to send you our weekly motivational emails, tips and stories, so please keep an eye on our social media for updates during May.  
You can still access some of the Move in May resources here
Join the #MoveinMay conversation on social media.
Throughout the month, we will be sharing inspiration and ideas and encourage you to do the same using the #MoveInMay2021 hashtag. Don't forget to follow and like our social streams in advance. 
Want to fundraise or donate to us?
The choice is yours and we will always be grateful for your support. You can do that via JustGiving here
Alternatively, you can donate from your phone. Text BFNMIM to 70085 to donate £3 (or any amount that you wish). Texts cost £3 plus one standard rate message.