Breastfeeding is good for mums, babies and the environment, but many women feel nervous about breastfeeding out and about, and this can mean they choose not to breastfeed or that they stop breastfeeding before they want to. Concerns about breastfeeding in public (such as embarrassment and negative public attitudes) have been identified as one of the main barriers to breastfeeding. By signing up to this scheme businesses and organisations can help show that they welcome and support breastfeeding families by displaying an easily recognisable sticker and sharing information with their staff and volunteers about why breastfeeding is important and how it is protected.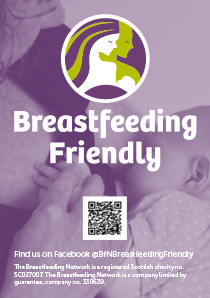 Families, look out for stickers and posters with the BfN Breastfeeding Friendly logo or search for a signed up venue that is local to you if you are feeling unsure about breastfeeding out and about.
It is important to remember that your right to breastfeed in any public place is protected by law and that most women only have positive experiences of breastfeeding out and about.
The aims of the BfN Breastfeeding Friendly scheme are to-
Support families to feel confident breastfeeding out and about
Be a way that communities and businesses can show they welcome and support breastfeeding
Raise awareness about the benefit and barriers to breastfeeding
More information about the scheme for families
More information for businesses and organisations – benefits and how to sign up
More information for employers
Give feedback about the scheme
You can keep up with all the local news about the scheme by following our Facebook page.
Some of our peer support services across the UK also run local Breastfeeding Friendly or Breastfeeding Welcome schemes. Have a look at our peer support services page to see if your local area is listed and to find out more about your local scheme.
Disclaimer: The Breastfeeding Network's (BfN's) Breastfeeding Friendly scheme is intended to show that a business or organisation has an interest in supporting breastfeeding families to have a positive experience of breastfeeding out and about. Neither the scheme nor BfN takes any responsibility for guaranteeing a specific standard or customer experience in any premises or business that has signed up. The venues are not checked or certified in anyway by the Breastfeeding Network and we cannot take responsibility for the facilities or staff in any venue displaying the BfN Breastfeeding Friendly logo.
Where we receive any feedback, positive or negative, specific to a venue or business we will endeavour to pass this on to the relevant party with a suggested course of action that may improve or help develop experience. However. The BfN cannot enforce changes. We reserve the right to remove participating businesses or premises from the Scheme where there is evidence to suggest that the scheme has been used inappropriately.
Please only use the scheme materials as provided on our website. If you would like to add your own logo to the poster and other resources please contact breastfeedingfriendly@breastfeedingnetwork.org.uk beforehand. We are keen that the scheme and all associated resources remain accessible, but please ensure the Breastfeeding Network is acknowledged as the originator and owner of the scheme materials and logo whenever you use it.