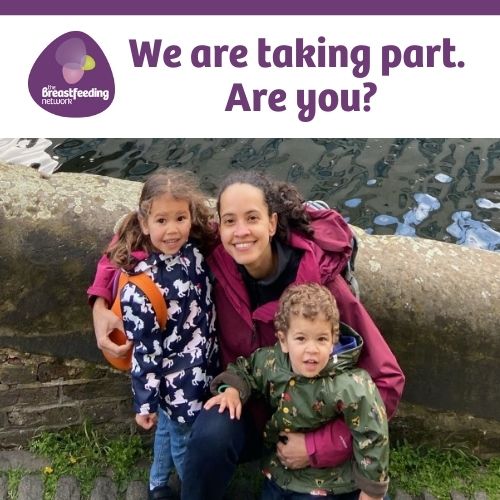 I'm Cleo and I live in Islington, North London with my husband and two children Zara and Joshua.
We are Move in May Community Champions. Our role is to help spread the word about BfN's Move in May campaign and to share our experiences to encourage other families to get involved. We're excited to be involved again this year because we know just how important the work of BfN is to families getting the support if/when they need it along their breastfeeding journey.  
We have fond memories of Move in May 2020 and that's why we jumped at the chance to take part again this year. Last year we had just gone into lockdown, we had a lot on our plates at home with work and childcare, we were missing friends and family and just needed to inject some positivity. Taking part in Move in May really helped us physically and mentally during that time of uncertainty.
We really enjoyed the experience of completing Move in May 2020 and the children can't wait to find out what the Milk Family have to offer this year. It will of course be different in 2021 now that restrictions are lifting, but we still plan to take part and do something every day.  
For us, success was in the simplest things last year. Often we would go for a walk or ride to a park, or do a kids yoga session if it was raining. Other days we would do something active like shuttle runs. We tried to mix things up to stay motivated – and it worked.  
My children particularly enjoyed using the printable daily activity tracker and colouring it in after they achieved their goals each day. At the end of the month I surprised them by putting a puzzle, game and a book in an old delivery box along with their completion certificates.  The children were convinced that it had all been sent by Miss Milk herself to congratulate them!
We look forward to sharing more about our Move in May journey with you again this year. 
Best wishes to you all for the month ahead.  
Cleo