You can find details about what support is available in your area by searching for your local BfN project Facebook pages or on our website here: Peer Support Services
The National Breastfeeding Helpline is open as usual from 9.30am-9.30pm 7 days a week on 0300 100 0212 or you can access web chat here https://www.nationalbreastfeedinghelpline.org.uk/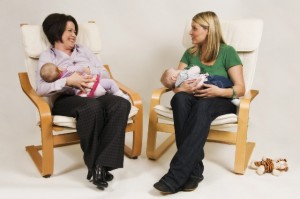 In some areas BfN Registered Volunteers, who have all breastfed their own babies, may help run or may be involved in Breastfeeding Drop-In groups. The groups are a great way to meet other breastfeeding mums living in your area and can provide face to face support if you need it.  You can read about the things some mum's had to say about the drop-in groups below.
If you are searching on a mobile phone and you cannot see a list of details such as address and opening times please try clicking the icons which appear on the map.
If you are not able to find what you are looking for in the Drop-In group locator below then please contact us on on 0300 100 0212 and we may be able to help.
In addition, there may be a Peer Support project in your area.  Peer Support projects can offer additional levels of support. Check here to see if there is one in your area.
Please note that the opening times and availability of the groups can sometimes change at short notice therefore it is advisable to contact the venue if possible before going along for the first time.
"It's so nice to have somewhere to come out to, where you feel ok about breastfeeding."
"I went for help to start with, but I enjoyed the social side too."
"Sometimes you have lots of little questions – not worth a phone call but nice to have the answers."
"Before I came here, I was 'breastfeeding lonely."