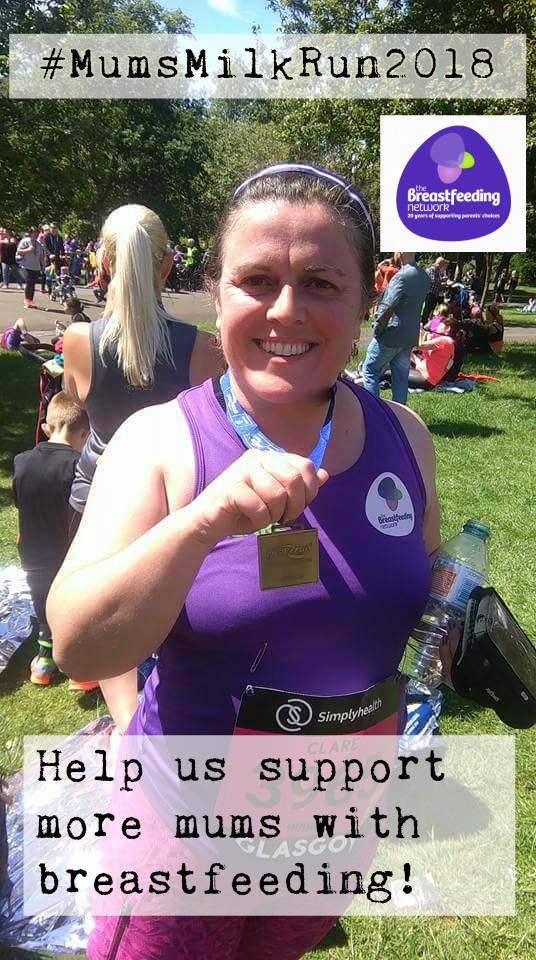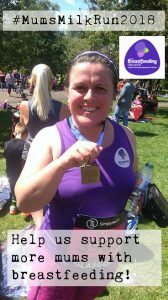 Ahead of the Mums Milk Run 2018, we interviewed some of our regular fundraisers to find out what they get out of doing our bi-annual 20k virtual run. Clare Farquhar is BfN's Central Support Manager and she got into running recently. Here's her story.
Why do you run for BfN?
I have been doing the Mums Milk Run virtual run for BfN since the first event in 2017. I used to volunteer as a breastfeeding supporter, but I find I don't have time for that now, so this is my way of supporting BfN on top of the job I do as BfN Central Support Manager.
I think there are a lot of similarities between running and breastfeeding in terms of things that help make them successful. Being single minded, determined, not caring what others think or say (no one did say anything, but I was worried) are all factors that helped me get into running and into breastfeeding. There's also the physical and mental health benefits, of both activities, and the sense of achievement when you reach your own goals. They're both free, you can do them as a group or on your own, at home or out and about. Mentally, breastfeeding and running have a lot of the same challenges, so running for BfN makes so much sense to me.
How did you get started?
I'm from Newcastle, and that's where the Great North Run starts. Every year I would see the run on TV and wish I could do it, but I never thought I could. Then one year, I don't know why, I just thought 'this year I'm going to do it'. That was in 2016, and I was so determined that when I didn't get a place in the ballot, I signed up to run for a charity – I did it for Mind.
I had never run before, I always hated running at school, and wasn't really very active at all. I'd just done a bit of netball. But I got a free training plan from the Great North Run website, which was for beginners, and I stuck to it rigidly.
The race was brilliant, and also very emotional for me. It was held on my Dad's birthday that year, and I wasn't to know but it ended up being his last birthday. It was held in the September and he died in the January.
I think it was my Dad that motivated me to do the Great North Run in the first place. My sister did it a long time ago, and he'd always said he was proud of her, and I wanted him to be proud of me too. When I look back on it, it's strange that that year I was suddenly so determined to do the run. My sister did it that day too, although she was a lot faster than me, and I think he was very proud of us both when we came back with our medals.
I completed it in 3 hours and 22 minutes and I did the whole thing on a run/walk basis, which means I ran for a couple of minutes, then walked for a couple of minutes repeatedly.
Since then, running has really helped me get through the bereavement. I think it's so good for your physical and mental health. When I go running I get to clear my head, and I don't really think about anything else other than how I'll get through the next half mile.
What do you like about running?
I like going running on my own, it's time to myself, and I enjoy listening to my music while I run. Some people like running groups, but they're not really for me. It's the peace and quiet I like – being able to go out under my own steam and leaving the house with just a front door key and a bottle of water – it's quite liberating!
How do you keep going when you really don't feel like it?
It's determination that really got me through the tough times when I first started running. I wanted to do it, and so I just did it. Initially I felt a bit self-conscious and was worried what people might think – a woman in her 40s running around, and not having the right gear. But eventually I just decided, I don't care what other people think. I actually got a lot of support from family and friends, and still do. Occasionally someone will beep their horn at me, and I nearly always automatically assume it is someone having a laugh at my expense, only to find out later it was someone I know beeping to wish me well!
Running for charity really helps, because I get lots of encouragement from friends and family who sponsor me and that gives me added motivation to get out when I really don't feel like it.
What are your running goals?
I recently completed my first 5k event where I ran the whole way. I was pretty slow but I did it! I'm now working on being able to run the whole way for a 10k. I've signed up for the Great Womens Run in Glasgow in June, which is a 10k, so the BfN virtual run will be perfect as part of my training. For me it is all about achieving my own goals and not worrying about what anyone else is doing.