The information about coronavirus and breastfeeding on this page is being checked regularly and will develop in response to guidelines and evidence.  This page was last updated on 19th October 2020.
Coronavirus 2019-nCoV or COVID-19 is a new respiratory illness that has not previously been seen in humans. The first coronavirus cases have been confirmed in the UK and the rising death toll worldwide is causing alarm and concern. This can be especially worrying for all parents with new babies and young children, including those who are worried about coronavirus and breastfeeding.
Can I breastfeed if I have COVID-19?
Current evidence suggests that it is safe to breastfeed and continue to offer breastmilk if you have COVID-19. "The long-term well established benefits of breastfeeding are highly likely to outweigh any potential risks of transmission of the virus through breastmilk" (RCOG, RCM July 2020, Walker, June 2020 & WHO June 2020)
 In fact, breastmilk is the best source of nutrition for infants and provides protection against many illnesses. If you have confirmed COVID-19 or have symptoms you should take all possible precautions to avoid spreading the virus to your baby, including washing your hands before touching your baby, sterilising any breast pump or bottles and washing your hands after changing their nappy.
Consider wearing a face covering or fluid-resistant face mask while feeding or caring for the baby.
If you are too unwell to breastfeed you may still be able to express milk for your baby. Pump equipment and bottles need to be sterilised according to manufacturer's instructions.
Babies should not wear a face covering or mask as they may risk suffocation.
It can be difficult to differentiate between a cold, flu and coronavirus. The information in this diagram may help: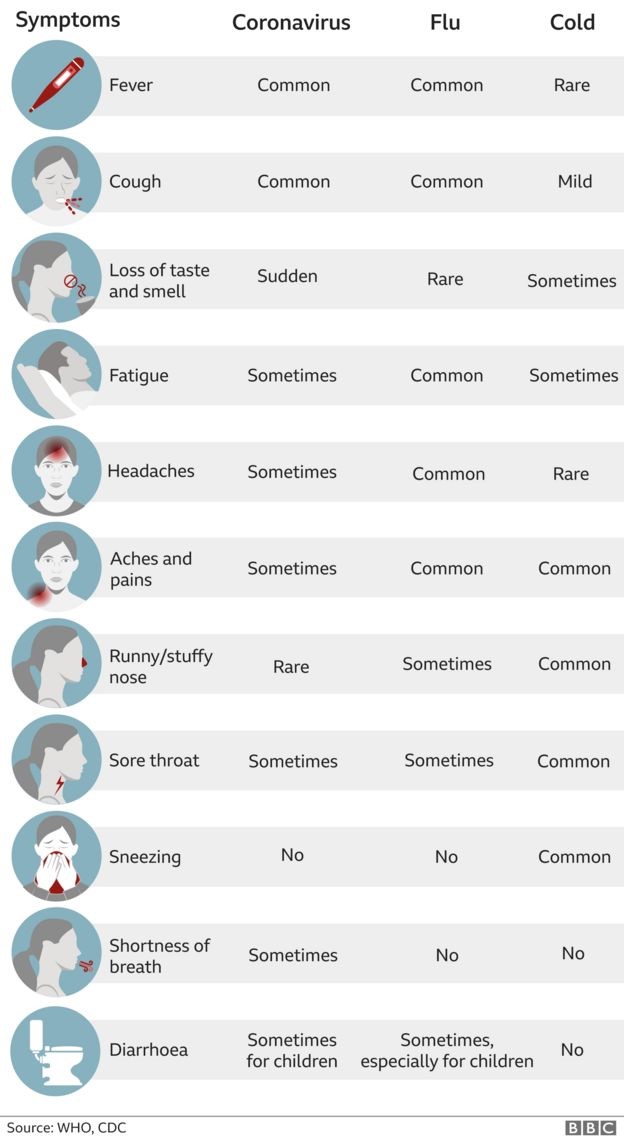 Image taken from https://www.bbc.co.uk/news/health-54145299 
For information on cough and cold remedies when you are breastfeeding see: https://www.breastfeedingnetwork.org.uk/cold-remedies/
For information on products which help to relieve sore throats: https://www.breastfeedingnetwork.org.uk/sore-throats/
For information on painkillers which may also help to relieve temperature and aches & pains: https://www.breastfeedingnetwork.org.uk/analgesics/
Should you be diagnosed with COVID-19 and be admitted to hospital you may be prescribed stronger medication including anti-virals:
See https://www.liebertpub.com/doi/full/10.1089/bfm.2020.0268?fbclid=IwAR2OAUf0u5yEbACcrAydssi7JTS68ZVbHrkOnmQgmYVOrLapM1vvbjYLSmo&#utm_source=ETOC&utm_medium=email&utm_campaign=bfm
References
Dumitriu D, Emeruwa UN, Hanft E, et al. Outcomes of Neonates Born to Mothers With Severe Acute Respiratory Syndrome Coronavirus 2 Infection at a Large Medical Center in New York City. JAMA Pediatr. Published online October 12, 2020. doi:10.1001/jamapediatrics.2020.4298
Sections 6:1-3, Version 11: updated 24 July 2020. Guidance for healthcare professionals on coronavirus (COVID-19) infection in pregnancy, published by the RCOG, Royal College of Midwives, Royal College of Paediatrics and Child Health, Public Health England and Public Health Scotland. https://www.rcog.org.uk/coronavirus-pregnancy 
https://www.england.nhs.uk/coronavirus/wp-content/uploads/sites/52/2020/05/C0441-maternity-leaflets-cv19-parent-information.pdf
Walker, KF, O'Donoghue, K, Grace, N, Dorling, J, Comeau, JL, Li, W, Thornton, JG. Maternal transmission of SARS-COV-2 to the neonate, and possible routes for such transmission: a systematic review and critical analysis. BJOG 2020; https://doi.org/10.1111/1471-0528.16362. 127: 1324– 1336.
https://obgyn.onlinelibrary.wiley.com/doi/10.1111/1471-0528.16362
WHO, June 2020, WHO/2019-nCoV/Sci_Brief/Breastfeeding/2020.1
https://www.who.int/news-room/commentaries/detail/breastfeeding-and-covid-19
WHO Update 38, 12/10/2020, www.who.int/docs/default-source/coronaviruse/risk-comms-updates/update-38.pdf?sfvrsn=b64a0f4d_2&fbclid=IwAR0EFDVIiv0hrarMv-FL3GZns1Ou7jOqc96hCmZdu2fIlN9iI_-Ur-MMHww#page3 
What are the symptoms?
Based on current evidence, the coronavirus presents with flu-like symptoms including a fever, a cough, or difficulty breathing. Anyone who thinks they have symptoms should visit
https://111.nhs.uk/covid-19
or in England, Wales and Northern Ireland should call NHS 111. In Scotland call your GP surgery or call 111 if your surgery is not open. You should stay at home and avoid close contact with other people. Do not go to a GP surgery, pharmacy or hospital.
How to avoid catching or spreading coronavirus
Do
wash your hands with soap and water often – do this for at least 20 seconds
always wash your hands when you get home or into work
use hand sanitiser gel if soap and water are not available
cover your mouth and nose with a tissue or your sleeve (not your hands) when you cough or sneeze
put used tissues in the bin straight away and wash your hands afterwards
try to avoid close contact with people who are unwell
Don't
touch your eyes, nose or mouth if your hands are not clean
I am feeling unwell and may have coronavirus
If you are feeling unwell, and have symptoms of coronavirus, the general information provided by Public Health England [in the link] should be helpful.
https://www.gov.uk/government/publications/covid-19-stay-at-home-guidance/stay-at-home-guidance-for-households-with-possible-coronavirus-covid-19-infection
Other things that may be of help include keeping yourself hydrated and taking painkillers such as paracetamol or ibuprofen*, as described on the packet, to help you feel more comfortable.
*There was some uncertainty about taking ibuprofen when you have symptoms of coronavirus. The Commission on Human Medicines has now confirmed there is no clear evidence that using ibuprofen to treat symptoms such as a high temperature makes coronavirus worse.
If you have been prescribed anti-inflammatory medication by your doctor for other reasons please do not stop treatment without discussion.
Link here:
https://www.gov.uk/government/organisations/commission-on-human-medicines
Guidance on how long to stay at home and how to contact NHS 111 is also on the PHE site above.
If you suspect you have COVID-19 or it has been confirmed and you want information on breastfeeding follow the link:
https://www.rcog.org.uk/en/guidelines-research-services/guidelines/coronavirus-pregnancy/covid-19-virus-infection-and-pregnancy/
The main points include:
Wash your hands before touching your baby, breast pump or bottles
Try to avoid coughing or sneezing on your baby while feeding, whether breastfeeding or giving a bottle.*
Consider wearing a face mask while breastfeeding or bottle feeding, if available*. Discuss options with your midwife.
Follow manufacturers recommendations for pump cleaning after each use.
If you are feeling too unwell to breastfeed directly consider asking someone who is well to feed your expressed breast milk to your baby.
If you choose to feed your baby with formula or expressed milk, it is important that you follow the sterilisation guidelines [link to NHS site https://www.nhs.uk/conditions/pregnancy-and-baby/sterilising-bottles/ . ]
If you are expressing breast milk in hospital, a dedicated breast pump should be used. The hospital may have guidance about bringing the bottles into the neonatal unit.
*This is to ensure good respiratory hygiene when close to your baby such as when feeding, or changing their nappy.
If you would like to know more about donor milk as an option while you are ill follow this link to find your nearest milk bank. Supplies are limited, they will do what they can. http://www.ukamb.org/
If your baby needs to be cared for in a Neonatal Unit (NICU) these links have general information and specific details about COVID-19 in neonatal units.
https://www.unicef.org.uk/babyfriendly/infant-feeding-on-neonatal-units-during-the-covid-19-outbreak/
https://www.rcpch.ac.uk/resources/covid-19-guidance-neonatal-settings
Please message the Drugs in Breastmilk information service via the Facebook page, or email druginformation@breastfeedingnetwork.org.uk
Link checked 14 May 2020
Drugs in Breastmilk information here:
https://www.breastfeedingnetwork.org.uk/detailed-information/drugs-in-breastmilk/
Facebook link here:
Starting breastfeeding - the first few days.
Women tell us that days 3 or 4 can be a time of change and feelings of being overwhelmed together with tiredness can be common. You may also feel isolated during this time of public worry and restrictions on social contact. Staying connected with your baby as your body adapts to support your baby's needs is important as is knowing where you may be able to get help if you need it. You may notice your breasts becoming warmer and tingly as they begin filling with milk and your baby may be more unsettled and feed in unpredictable patterns. Take each feed, one at a time, spending time with your baby as you both learn from each other. When possible keeping together in skin to skin will help to calm your baby.  Knowing what to look out for can help you see and feel how well your baby is feeding. Learning and recognising some simple signs can make all the difference.
How is feeding going?
Helping your baby attach well will allow them to make the most of your milk and avoid hurting your breasts. You are looking for short sucks to begin, which can feel strong, followed by long rhythmic sucks and swallows. When your baby finishes the feed, they should appear content and satisfied – though they may want more from the second breast before they finally settle. Your nipples should look like they did before the feed, if sore, misshapen or have pressure lines, the attachment may have shifted during the feed – this is something to work on. Keep in mind the phrase 'CHINS', trained peer supporters use this acronym when supporting mothers to help remember the ways of holding and attaching your baby: Close, your baby needs to be close to you so that they can scoop enough breast into their mouth Head free, so your baby can tilt their head back when attaching to your breast. This allows their chin to lead as he comes on to the breast In Line, your baby's head and body need to be in a straight line so they are comfortable and can swallow easily. Nose to nipple, this should be at the top of the list – start the feed with your nipple level with your babies nose so that as they root and tilt their head you can bring them closer to you so they will be well attached. Sustainable, comfortable for both of you through the feed. Your baby's wet and dirty nappies are a good indication of the amount of milk taken.
The first 48 hours
At the beginning, your baby will pass a black tar-like poo (called meconium)
In the first 48 hours, your baby is likely to have only 2 or 3 wet nappies.
Wet nappies should then start to become more frequent, with at least 6 every 24 hours from day 5 onwards. You may notice an orange or red, brick-dust coloured stain in your baby's nappy in the first couple of days after birth. This can look alarmingly like blood, but is urate crystals, which is normal at this time. As feeds increase the urine will become less concentrated and the staining will disappear. Let your midwife know if it is still there by day 3 or 4. It is also common for baby girls to have a vaginal discharge in the first few days after birth. At times this may be slightly blood stained and is due to the presence of your hormones in your daughter's body; this is entirely normal but if in doubt please check with your midwife. https://www.cuh.nhs.uk/rosie-hospital/pregnancy-labour-and-birth/going-home/caring-for-your-baby/what%E2%80%99s-nappy
Days 3-4
By day 3, your baby's poo becomes easier to clean as the meconium mixes with your milk and should be changing to a lighter, loose, greenish poo.
From day 4 and for the first 4 – 6 weeks your baby should pass at least 2 yellow poos every day, with poos at least the size of a £2 coin.
If on any day during the first week your baby has not had a poo, or you have any concerns,  call the National Breastfeeding Helpline. You can also speak to your midwife. They will help you check how well your baby is feeding and any difficulties you may be having. There will be many times when your baby is doing well with a gap in poo, yet it is better to be careful and to seek support to help guide you. To discuss this, or any question, ask your midwife or call the National Breastfeeding Helpline, 0300 100 0212, open 9.30am-9.30pm, every day of the year. It's important to stay connected so call as often as you like.
Link to all the breastfeeding support available during COVID-19 https://www.breastfeedingnetwork.org.uk/breastfeeding-support-in-the-uk-during-the-coronavirus-covid-19-situation/
These links below can make it all seem easy when the reality may be harder. Talk it through with someone on the helpline as they are skilled at knowing how to help.
See colour changes of baby poo on p17 https://www.unicef.org.uk/babyfriendly/wp-content/uploads/sites/2/2010/11/otbs_leaflet.pdf
Beginning breastfeeding https://www.nhs.uk/conditions/pregnancy-and-baby/breastfeeding-positioning-attachment/
Longer, ten minute, video showing more detail on attachment and how babies signal they are ready to feed through feeding cues https://globalhealthmedia.org/portfolio-items/attaching-your-baby-at-the-breast/
First feeds https://web.bestbeginnings.org.uk/web/video/your-babys-first-feed-1041/videos
Feeding on day 2 – to show babies need to calm to feed. Too upset on first try https://www.breastfeedinginc.ca/baby-28-hours-old-assisted-latching
How can I increase the amount of breastfeeds? I'm breastfeeding and also giving bottles of formula.
If your baby is now breastfeeding after earlier difficulties, and you want to increase breastfeeding, try reducing one of the formula feeds at a time that suits you both. Early to mid-morning is often good, you will know what works for you. Offer your baby's usual breastfeed, from both sides. What happens next depends on you and your baby. Before offering their usual bottle of formula you could offer another feed from the first and possibly second breast to stimulate more milk. Then offer the bottle of formula For babies drinking larger bottles, or if you want to go more slowly, try dropping 30ml in that feed. Keep the rest of the formula feeds the same throughout the rest of the day. Keep to this pattern each day, for several days so your body adjusts. Your baby may want the next breastfeed sooner or there may not be much difference. After a few days reduce the feed by another 30ml and keep going at this pace until you can stop this feed completely. Then hold this pattern for a few days and when you are both ready try reducing the volume of formula in another bottle. Going slowly like this means you know your baby is not missing out on very much formula and gives your milk time to increase in amount. You can see your baby is receiving enough milk by checking their nappies – they should be producing at least 6 wet nappies (from 6 days and older) and at least 2 poos every 24 hrs. For older babies this pattern may vary so compare with their usual amount of wet and dirty nappies. You may notice their poos change to become runnier and more yellow again. These suggestions are for babies who have been gaining weight and there are no concerns about their ability to feed. It is important to go at a pace that suits your baby. If your baby is used to having a dummy it might reduce the time they would breastfeed so use it sparingly around the time you are dropping the amount of a feed. As an alternative you could express some milk and give that by bottle before finishing the feed with your usual formula – this is harder to sustain as you have 3 different feeding options to juggle. It can be useful as a short-term option, perhaps if your baby has taken a while to learn to feed effectively. If you have difficulties with breastfeeding or have any concerns call the National Breastfeeding Helpline to talk this through. Links rechecked 14 April 2020
https://www.unicef.org.uk/babyfriendly/wp-content/uploads/sites/2/2020/03/Unicef-UK-Baby-Friendly-Initiative-Maximising-breastmilk-and-re-lactation-guidance-3.pdf
https://abm.me.uk/breastfeeding-information/relactation/
https://www.who.int/maternal_child_adolescent/documents/who_chs_cah_98_14/en/
I have stopped breastfeeding, can I restart?
Restarting breastfeeding is possible. It takes time, lots of patience and depends on how your baby reacts, some find it surprisingly easy to adjust and others take a while to become interested. Encouraging your baby The following steps can help, there is no exact, or simple way to do this. Watch your baby, follow their cues. Sometimes they need a few days of being with you, skin to skin, before they decide to take an interest in latching on. Find a time where you can lie on your bed propped up on pillow or cushions, or lying on your side, whatever is comfortable for you both. If sitting up hold your baby between your breasts skin to skin. If on your side, lie with your baby close to your breast. Let your baby get used to being close again and explore your breasts. Just like at the beginning they often start by nuzzling and licking your nipple, and reaching out with their hands. You can encourage this by expressing a little milk, if you have some so they can taste it. This can be fiddly and distracting so concentrate on letting them explore until you think it would help. Where your baby has been fed or is being fed from a bottle sometimes a nipple shield can help your baby transition to feeding at your breast. They come in different sizes so you are likely to need help to find one that fits you well and is comfortable for the baby to feed from. Your baby should be well attached so your baby's tongue can reach your breast, past the stalk– this helps your baby get more milk. If the stalk of the nipple shield is too big it can be uncomfortable to feed easily as it can make them gag. This is easier to talk through with a skilled breastfeeding supporter, in person or on the National Breastfeeding Helpline. Stimulating your breasts Use a pump or hand express to stimulate your breasts for 10-15 minutes each side aiming for least eight times in 24 hours, including once at night. The pump should be comfortable, too high a setting is likely to make you sore without increasing your supply. The number of times you express is more important that keeping the expressing times evenly spaced out. Increasing the amount of breastfeeds See the FAQ on increasing the amount of breastfeeds. It is easier to go slowly dropping one feed at a time as it means you know your baby is only missing out on a little formula at any time. For babies drinking larger bottles, or if you want to go more slowly, try dropping 30ml in that feed and hold that pattern for a few days until they have settled into the new pattern. If your baby is unsettled in between feeds try offering an extra breastfeed, this will help boost your milk supply. Mothers often say they find the change from more predictable feeding times unsettling. It takes a while to settle to this new pattern. Some babies will want to go faster so this phase may feel quite intense. You may notice you are getting thirstier and more hungry as your milk supply increases. This is all expected and a good sign you are making more milk. Another sign that your baby is receiving enough milk is that they are producing at least 6 wet nappies (once they are 6 days and older) and at least 2 poos every 24 hrs. For older babies this pattern may vary so compare with their usual amount of wet and dirty nappies. You may notice their poos change to become runnier and more yellow again. If you have difficulties with breastfeeding call the National Breastfeeding Helpline to talk this through. These suggestions are for babies who have been gaining weight and there are no concerns about their ability to feed. It is important to go at a pace that suits your baby. ABM have a leaflet explaining relactation in more detail: https://abm.me.uk/wp-content/uploads/ABM-relactation-breastfeeding.pdf And a leaflet explaining nipple shields: https://abm.me.uk/breastfeeding-information/using-a-nipple-shield-with-a-breastfed-baby/ National Breastfeeding Helpline 0300 100 0212
Is sharing breastmilk safe during coronavirus?
Informal milk sharing is not recommended particularly while coronavirus – COVID-19 is such a concern. Although the virus has not been detected in breastmilk it can stay on the surface of containers and can also be passed on through close contact without the person being aware they have any of the symptoms.
http://www.ukamb.org/breastmilk-sharing/
Is donor breastmilk from a milk bank an option?
Pasteurised donor milk may be obtained from a milk bank. Priority is given to the sickest, most premature babies. Mothers with their own breastfeeding challenges may be able to get donor breastmilk if there are sufficient supplies.
http://heartsmilkbank.org/milk/
Health workers expressing milk at work
If you express milk at work and are concerned about the possibility of contamination with COVID-19 the following information, checked on the 20 April 2020, may help. The priority is your own safety, and that of your baby. If you are caring for patients with COVID-19 while expressing for your own baby, the intensity of the environment may make fitting in these sessions harder.
Summary
COVID-19 is new and will take a while before the evidence becomes more settled. COVID-19 is not known to be transmitted in breastmilk. However, COVID-19 has the potential to contaminate surfaces which could include the outside of bottles and breast pump. The following resources may be useful if you are working in an environment where this is a possibility e.g. patients have tested positive for COVID-19, or are suspected of having the virus. The guide
#COVID19 and Breastfeeding for Healthcare Professionals [1]
is written by doctors for their own use. The guide covers practical options – handling your pump, and setting up a decontamination area at your front door. Good hand hygiene before and after expressing is vital along with careful cleaning of pump parts. In the UK the general guidance for cleaning pumps is to follow the manufacturers instruction, repeated here in the RCOG / RCM Guidance [p34] below. [2 & 3] Milk storage containers are classed as a food contact surface and as such the use of chemical disinfectants on the outside of filled containers is not recommended (HMBANA, April 2020). [4] The HMBANA infographic guide [4] has suggestions for transferring milk after expressing into clean bottles which may be helpful. Standard milk storage times apply [5]
References
[1] Breastfeeding and COVID-19 for HCPs
[2] Coronavirus (COVID-19) Infection in Pregnancy:  Information for healthcare professionals Version 7: Published Thursday 9 April 2020
https://www.rcog.org.uk/coronavirus-pregnancy
[3] UK instructions for sterilising bottles and pump parts
https://www.nhs.uk/conditions/pregnancy-and-baby/sterilising-bottles/
[4] Milk Handling for COVID-19 Positive or Suspected Mothers in the Hospital Setting Accessed 16/04/2020
https://www.hmbana.org/news/milk-handling-for-covid-19-positive-or-suspected-mothers-in-the-hospital-setting.html
[5] Expressing and storing information
https://www.breastfeedingnetwork.org.uk/breastfeeding-help/expressing-storing/
Breastfeeding support in the UK during the COVID-19 situation
Breastfeeding supporters in the UK – both voluntary and paid – are skilled and experienced in offering breastfeeding support over the phone and online. Several helplines are available along with virtual support groups, and many have increased capacity:
National Breastfeeding Helpline (run by the Association of Breastfeeding Mothers and the Breastfeeding Network) – 0300 100 0212 Open 9.30am-9.30pm, every day of the year. This line also includes an option for Welsh and Polish language support.
Breastfeeding Network Bengali/Sylheti Helpline 0300 456 2421
The National Breastfeeding Helpline also provides support via web chat at www.nationalbreastfeedinghelpline.org.uk and via Facebook messenger www.facebook.com/nationalbreastfeedinghelpline
The Breastfeeding Network's Drugs in Breastmilk Information service offers evidence based info on the safety of medications and treatments during breastfeeding. A series of fact sheets covering a wide range of issues and medications can be found at: www.breastfeedingnetwork.org.uk/drugs-factsheets Or you can message the BfN Drugs in Breastmilk Information page on Facebook at www.facebook.com/BfNDrugsinBreastmilkinformation Or email druginformation@breastfeedingnetwork.org.uk
Many Breastfeeding Network local services are running virtual groups for mothers to meet up for support with other families, staff and trained volunteers. or offering 1-1 support over the phone or via video calls.
There are lots of local BfN Facebook pages and groups that you can join to chat to other mums and to get support from trained volunteers. Many local areas also have an email address so you can contact them directly
In a few areas with commissioned services, The Breastfeeding Network is offering some face to face support (clinic appointments, home visits and walking groups), where this can be provided in a secure way and with full permission of the health board/NHS Trust or local authority. These services may change in accordance with local guidelines so check this page regularly for updates, More details on what is available in your area can be viewed here https://www.breastfeedingnetwork.org.uk/peersupportprojects/
La Leche League – 0345 120 2918 (8am-11pm) and visit https://www.laleche.org.uk/get-support/ for a range of online and telephone breastfeeding support options.
This information was prepared jointly by the breastfeeding support organisations.
If you are finding it hard to find your baby's usual brand of infant formula
Protecting your mental health during anxious times
Feeling anxious is a very normal emotion. We are all anxious just now. You may be isolated from your family, or finding the usual support is not available. That's without the extra worry of coronavirus. These feelings are normal yet may feel overwhelming at times. Coronavirus, or COVID-19 feels threatening, both to ourselves and the people we care about.  Recognising this threat can help you work out how best to keep yourself safe.  Think about what is helping you and what is making you feel worse and then try to protect yourself from the negative things – including restricting time on social media. It is only necessary to seek help if you find your feelings spiralling out of control.   Tell your loved ones how you feel, this may be an opportunity to express your frustration and worries, which may be all that you need for just now. You can call the National Breastfeeding Helpline to talk about your concerns related to breastfeeding, if you can feel more confident about how you feed your baby it can take a lot of weight off your mind.
Sources of help:
Useful information for supporting children
Mindheart has published a short book to support and reassure children under the age of 7 about coronavirus. Covibook is available to download in 21 languages including English.  Read the news story: #COVIBOOK Supporting and reassuring children around the world
Read the book: Covibook (PDF)
https://www.unicef.org.au/blog/news-and-insights/march-2020/how-to-talk-to-your-children-about-coronavirus?dm_i=4W2U,BAIH,1FV16H,18L55,1
https://www.childline.org.uk/info-advice/your-feelings/anxiety-stress-panic/worries-about-the-world/coronavirus/
Mental Health and Wellbeing
The Anna Freud National Centre for Children and Families has published advice and guidance for Parents and Carers and Schools 
https://www.annafreud.org/what-we-do/anna-freud-learning-network/coronavirus/
 

Coronavirus, mental health, wellbeing

There is much that each one of us can do to support the wellbeing of those in our lives. We don't know whether the coronavirus situation will impact on children and young people's mental health, but we think that it may.
The Association for Child Mental Health has released a podcast discussing the coronavirus and children and young people's mental health. 
Read the news story and listen to the podcast: https://player.fm/series/association-for-child-and-adolescent-mental-health-acamh/dr-jon-goldin-on-the-coronavirus-and-child-mental-health
Information about online safety
https://www.gov.uk/government/publications/child-safety-online-a-practical-guide-for-parents-and-carers/child-safety-online-a-practical-guide-for-parents-and-carers-whose-children-are-using-social-media
https://www.nspcc.org.uk/keeping-children-safe/online-safety/
You can find a summary and original NSPCC sources of information we have described above here
https://parentinfantfoundation.org.uk/first-advice-on-safeguarding/
https://www.nspcc.org.uk/keeping-children-safe/coronavirus-advice-suppport-children-families-parents/
Here are some of the latest guidelines:-
Other Information and further support
Useful information for staying at home
Updated 19/10/2020