I feel very lucky that I had my baby pre lockdown, as I was able to access the face to face support from infant feeding specialist, BFN volunteers and peer support workers.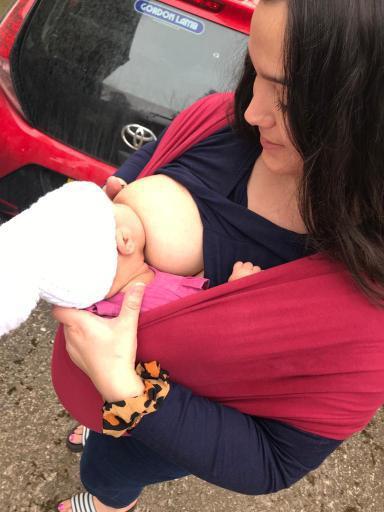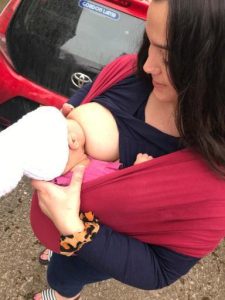 My first baby was born just before Christmas 2019. I planned a hypnobirth, because I wanted a calm drug free delivery.  Unfortunately, my waters were low, when I went for a scan just before and everything changed.  
Between Monday and Wednesday, I had multiple interventions ending with me attached to a hormone drip.  By Thursday morning I was only 3 cm dilated, my baby was in distress and I had spiked a temperature of 40 degrees. My baby was finally born by emergency caesarean. I was gutted.  
My baby girl was put on my chest briefly, then whisked away to neonatal. We were both treated for sepsis and had cannulas fitted – which was very uncomfortable for us and for feeding. I worried about hurting her and I was in pain because of my surgery.  
To be honest, the hospital offered no specific breastfeeding support – and some of the midwives showing me had never breastfed before themselves. One midwife suggested I use a rolled up towel under my 'pendulous" breasts' but the sister in charge told me off for doing this.
Then my baby lost weight and I was pressured to cup feed. It was a very bad experience and I felt at a loss. I was desperate to get out of hospital and get the breastfeeding support I needed in comfortable and familiar surroundings.  Once I was allowed home (on a feeding plan a week later)

I had a breastfeeding peer support worker come to my house and spend over an hour with me working on positioning and attachment. She suggested tongue tie and I got a referral to the hospital where they said there was no tongue tie. But I was still experiencing issues and painful nipples.  
When my baby was two weeks old, I attended the BfN Bolsover breastfeeding support group and the support they gave was outstanding. To hear similar experiences from other mums was great. I cried the whole meeting. They offered me cake and comfort.  
I finally got a referral to an infant feeding specialist, who came to the house and confirmed that my baby had a posterior tongue tie. When my baby was 6 weeks old, we got her tongue tie released. I also got advice on positioning, and attachment which really helped.  
All this time I continued attending BfN support group at Bolsover, then the new Chesterfield support group that opened. By the time baby was 10 weeks old, I was no longer experiencing pain!  I was so relieved.
During lockdown I have still been able to access support on the phone from national breastfeeding helpline, health visitors and weekly zoom video calls with bfn support groups. 
I can't bare to think if I'd had my baby during lockdown. I don't imagine I'd still be feeding now. It makes me sad to think there are women out there struggling without the hands on face to face support. 
BfN peer support volunteers helped me with so much – with positioning and general confidence boosting. My husband came to the groups too, they helped him as he felt like a spare part until then!  
My baby is now 7 months old, exclusively breastfed and I've even mastered feeding her in a sling!  Thank you! 
Victoria and baby Alessia