Course Reference: Helper2023/12
Course Title: Helpers (Lambeth)
Number of places available: 8-12
Course start date: 08/11/2022
Course end date: 31/03/2023
Day and time of sessions: Tuesdays, 10:30-12:30 – N.B. no sessions during school holidays (w/c 19 Dec-2 Jan & 13-17 Feb)
Tues 8 Nov – week 1
Tues 15 Nov – week 2
Tues 22 Nov – week 3
Tues 29 Nov – week 4
Tues 6 Dec – week 5
Tues 13 Dec – week 6
Tues 10 Jan – week 7
Tues 17 Jan – week 8
Tues 24 Jan – week 9
Tues 31 Jan – week 10
Tues 7 Feb – week 11
Tues 14 Feb – week 12
TBA before 31 March 23 – initial supervision session
Duration:  12 sessions as dated above
Assignments to be completed by: 01/03/2023
Course venue: Ethelred Children's Centre, 1 Gundulf Street, London, SE11 6BG
Free creche available during training sessions: Yes
Closing date for applications: extended to 01/11/2022 (was 25/10/2022)
Informal interviews: 03/11/2022 and 04/11/2022
DBS required: Yes (BfN will arrange this at no cost to volunteers)
Course information:
Upon qualifying, trainees have opportunities to volunteer at an online or face-to-face weekday support group or monthly walking group.  Qualified trainees will also attend ongoing supervision and learning once a month to maintain BfN registration.

Lambeth residents will be prioritised as the course is funded by Lambeth Early Action Partnership and Local Authority.
How to apply:
If you are interested in being considered for this course please complete the online application form found at the link below.
Please be aware that we cannot accept postal applications at this time.  If this is a barrier to you applying, please contact us as at the earliest opportunity so that we can support you to apply.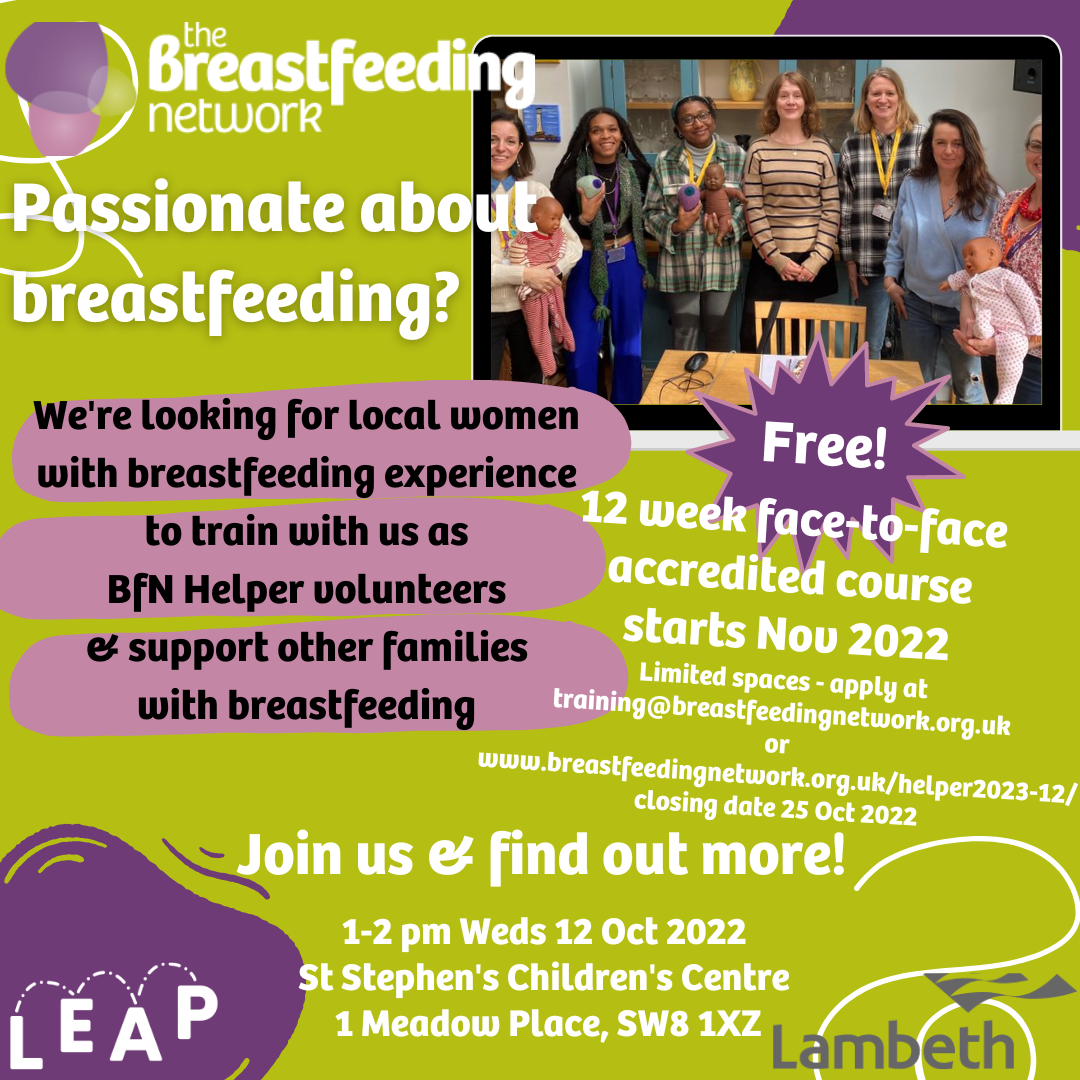 If you have any questions about the course, voluntary role or application process, please email training@breastfeedingnetwork.org.uk or telephone 08444 120 995.