BfN Volunteers in Portsmouth can be found  on the maternity ward at Queen Alexander Hospital and in NHS lead breastfeeding groups across the city.
Details of various groups and welcome schemes can be found by clicking on the below images: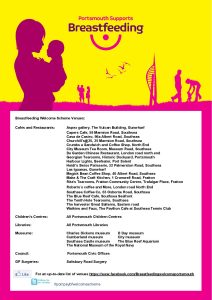 Click here  for information on our Study Day on Saturday 24th February 2018.
Information about our welcome schemes, coffee cake and chat, support available and local events can also be found on our Facebook page, the welcome scheme page and on our Twitter page @BfNPortsmouth.
here