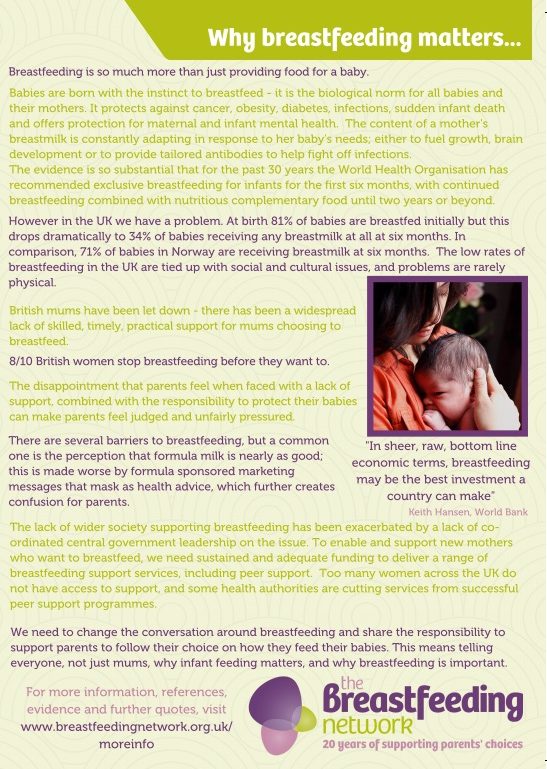 For more information on the impact of breastfeeding on various infant physical and mental health issues (including studies on: allergies, asthma, bone density, blood pressure, brain & cognitive development, childhood cancer, cholesterol, dental health, diabetes, ear infections, gastero-intestinal illness, growth, heart disease, hiv, infant mortality, mental health, necrotising encephalitis, obsesity, pain relief, and respiratory illness) visit the Unicef Baby Friendly research pages: https://www.unicef.org.uk/babyfriendly/news-and-research/baby-friendly-research/infant-health-research/
For more information on the impact of breastfeeding on various maternal physical and mental health issues (including studies on: blood pressure, bone density, breast cancer, diabetes, heart disease, mental health, obesity, rheumatoid arthritis) visit the Unicef Baby Friendly research pages:
https://www.unicef.org.uk/babyfriendly/news-and-research/baby-friendly-research/maternal-health-research/
For the most recent Infant Feeding Survey, which took place in 2010 (now cancelled), please visit https://data.gov.uk/dataset/infant-feeding-survey-2010
For more details on the state of breastfeeding in the UK, visit the World Breastfeeding Trends Initiative: https://ukbreastfeeding.org/wbtiuk2016/
To see how much money could be saved by increasing breastfeeding rates, read Unicef's information on Preventing Disease and Saving Resources.
The Lancet series, published in 2016 focuses on substantial breastfeeding research and the articles in the series cover past and current global trends of breastfeeding, its short and long-term health consequences for the mother and child, the impact of investment in breastfeeding, and the determinants of breastfeeding and the effectiveness of promotion interventions.  www.thelancet.com/series/breastfeeding
The World Bank's Global Practices Vice President, Keith Hansen's quote comes from his article The Power of Nutrition and the Power of Breastfeeding, published in Breastfeeding Medicine, 2015.
For thoughts on how breastfeeding is often portrayed in the media read: http://www.sciencemediacentre.org/tin-hats-on-were-discussing-breastfeeding/
"We do controversy at the Science Media Centre.  If views are polarised on a subject, if the advocates and the opposition have dug their trenches and the views of scientists risk getting caught in the crossfire, we get involved.  That's why we got stuck in to human animal hybrids, climate change, minimum alcohol pricing, GM crops and animal research.  But nothing had prepared me for the most polarising, knee-jerking subject of all: breastfeeding."
Tom Sheldon, Senior Press Officer at the SMC
For thoughts on changing the conversation around breastfeeding and supporting families rather than making them feel judged or pressured, read Unicef Baby Friendly's Sue Ashworth on 'Changing the conversation' and their Call To Action campaign.
Other useful sources of information and support:
Accurate and unbiased information about infant feeding, including clear information about infant formula, follow on formula and other infants milks marketed in the early years.
National Breastfeeding Helpline
Independent, evidence based, mother centred breastfeeding information and support provided by volunteers from the Breastfeeding Network and the Association of Breastfeeding Mothers.
Open 9.30am-9.30pm every day of the year on 0300 100 0212.  Support available in English, Welsh and Polish.  Web chat support available via bit.ly/NBHChat
Funded by the Office for Health Improvement and Disparities and Scottish Government