Covid-19 Update:
Due to current restrictions relating to Covid-19 we are unable to see families in person, either in hospital or at drop ins.
Due to the current Covid-19 pandemic our usual drop in style service is unable to run.
But we can support you at one of our 6 face to face settings that you can book via Eventbrite.
We are also available for some Zoom support.
Please see flyer below for details.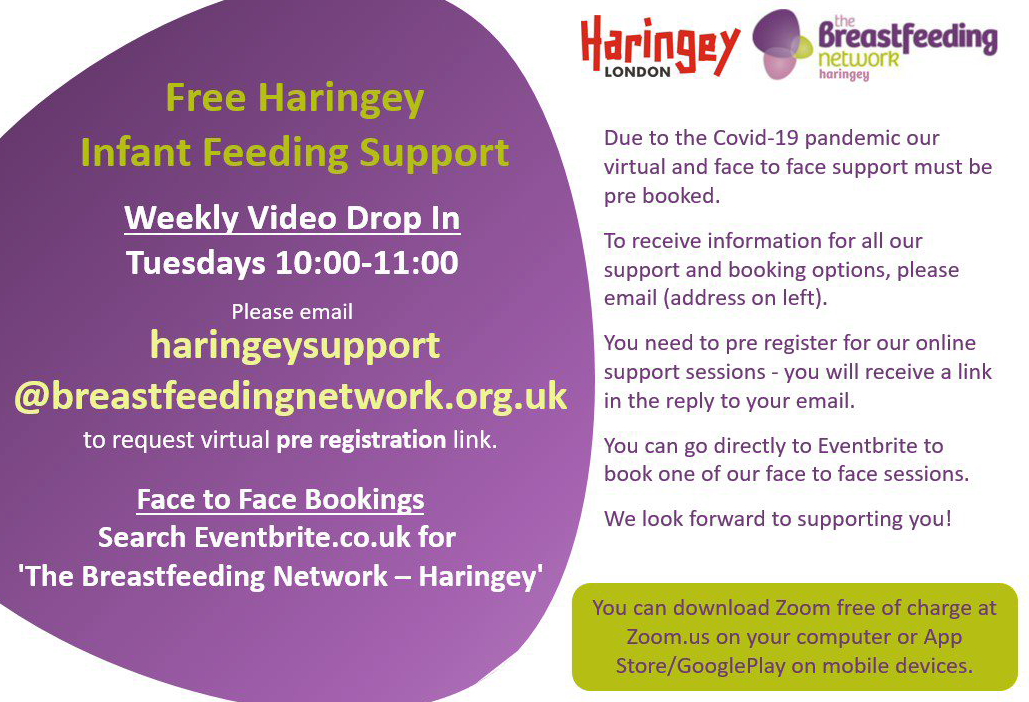 (Updated 28/10/2021)
Hospital
Haringey Breastfeeding & Weaning Peer Support Project has a team of friendly and experienced Breastfeeding Supporters and Helpers supporting Haringey parents and babies every day in the postnatal wards at both the Whittington and North Middlesex Hospitals.  
Community
We run six friendly and welcoming breastfeeding drop in groups at Children's Centres across the borough each week where you can just turn up and see a breastfeeding supporter and meet other mums and babies.
Please view our Haringey Leaflet 2019 to see a timetable of our groups.  **  ** Additionally we have Peer Supporters working alongside the health visiting teams at some of the weekly local baby clinics.For more information on the service, or to find your nearest group please join our Facebook group at Haringey Breastfeeding Support
Feedback
If you have accessed our breastfeeding peer support service in Haringey – either in the community or in hospital  – we would love to hear your feedback.  Please visit https://www.surveymonkey.co.uk/r/TBYFPQP