Looking for breastfeeding support or just want to chat to another mum about breastfeeding?
The Breastfeeding Network has trained peer support volunteers in your local area offering support in lots of different ways.
We currently have some specific 1:1 telephone support available for all mums living in Glasgow City and having their baby at Queen Elizabeth University Hospital. The support can start at any time during your pregnancy and is available until your baby is around 4 months old.  You can email peersupportglasgow@breastfeedingnetwork.org.uk to register for support or use this link https://forms.office.com/r/tG25iWVyLf Once you register your peer supporter will get in touch to chat about the type of support you might find useful.
You can also access peer support using the options below
Come along to one of our outdoor Walk, Talk and Feed groups (Currently in Tollcross, Barshaw and Kilbarchan) or our indoor breastfeeding groups Find A BfN Drop-In – The Breastfeeding Network to meet other mums and get support from trained volunteers. 

Like our Facebook page Breastfeeding Network Greater Glasgow and Clyde | Facebook to find out about local groups and other support. You can also private message this page to access 1:1 support from trained volunteers
Join our local Facebook group BfN Greater Glasgow and Clyde. You can use this group to chat to other mums or to trained volunteers.
Join in with a virtual breastfeeding group video chat to say hello to other mums and peer supporters without leaving the house! Pregnant mums also very welcome. Details and links to join are on our Facebook page.
Ring the National Breastfeeding Helpline on 0300 100 0212 or message them on Facebook: NationalBreastfeedingHelpline
Email GGC@breastfeedingnetwork.org.uk to find out more about our support in Glasgow or to contact a trained peer supporter
All our volunteers are mums who have breastfed their own children and completed training so that they can support other families. Whatever your question or if you just want to chat to someone please get in touch.
Please be aware that emails and messages to our Facebook page will be seen by a small team of volunteers. If you contact us by email please send just a brief outline of your question or concern initially so we can support you in the most appropriate way. To find out how we look after your data you can go to http://www.breastfeedingnetwork.org.uk/privacy-notice/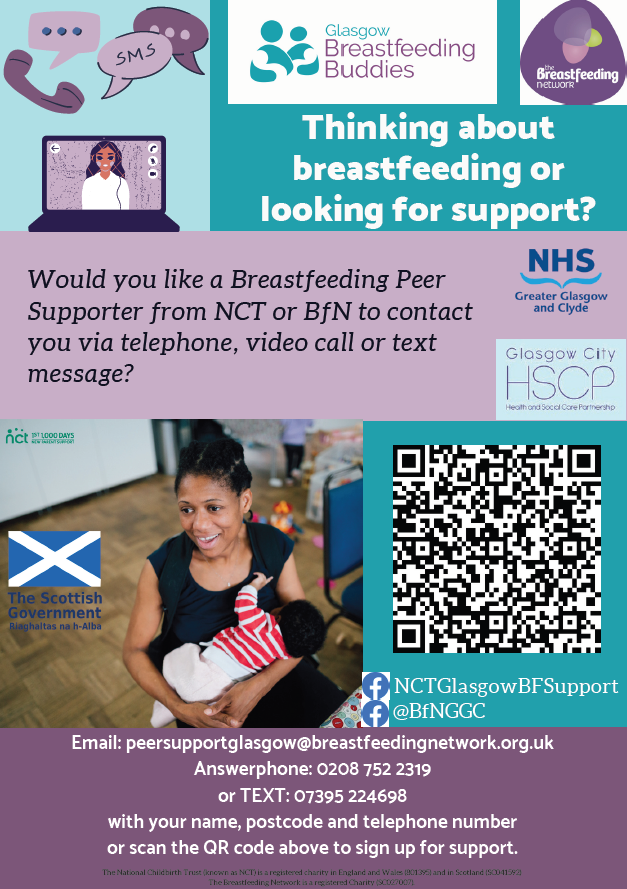 Updated 07/04/2021