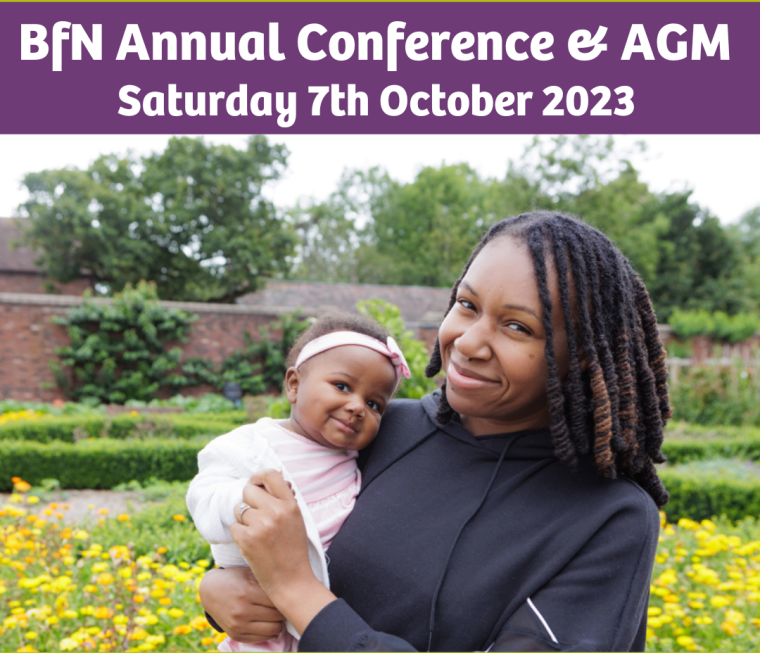 Building on the success of the last three years, and to give maximum flexibility for everyone to take part/attend, BfN's annual conference and AGM will be held virtually so we can reach as many people as possible.
The BfN annual conference is an exciting and informative event for our volunteers, parents, families and health professionals with an interest in breastfeeding, infant feeding and related topics. We are delighted that this year's conference will be introduced by Dr Ernestine Gheyoh Ndzi and chaired by members of BfN's Director team.
We hope you've saved the date in your diary, as tickets are now available to book your place for this exciting event.
We have some excellent speakers, interesting stories and news from across the BfN.
We have some great speakers booked to share with you their knowledge, information and experience in their various roles across the infant feeding sector.
Carolyn Wilson

, Unit Head (Supporting Maternal & Child Wellbeing), Scottish Government – Joining the Dots: Collaboration, communication and celebration. Developing and delivering Scotland's vision for infant feeding

Pete Wallroth, Founder and CEO of Mummy's Star –

Cancer & Pregnancy: Offering Choice and Recognising Trauma

Dr Emma Katz, Associate Professor at the University of Durham –

Understanding Coercive Control in the Lives of New Mums

Helen Gray, MPhil, IBCLC, Joint Coordinator of the World Breastfeeding Trends Initiative (WBTi) Project –

Tracking Infant Feeding Policy and Programmes in the UK: The World Breastfeeding Trends Initiative (WBTi) Assessment

Nicola Smith, Glasgow City Service Manager, BfN – Learning from Practice: Targeting Under-Served Communities.

Nikki Gallagher, Volunteer Coordinator BfN Stoke – Learning from Practice: Delivery in an Area of High Deprivation
Details for the event:
Saturday 7th October 2023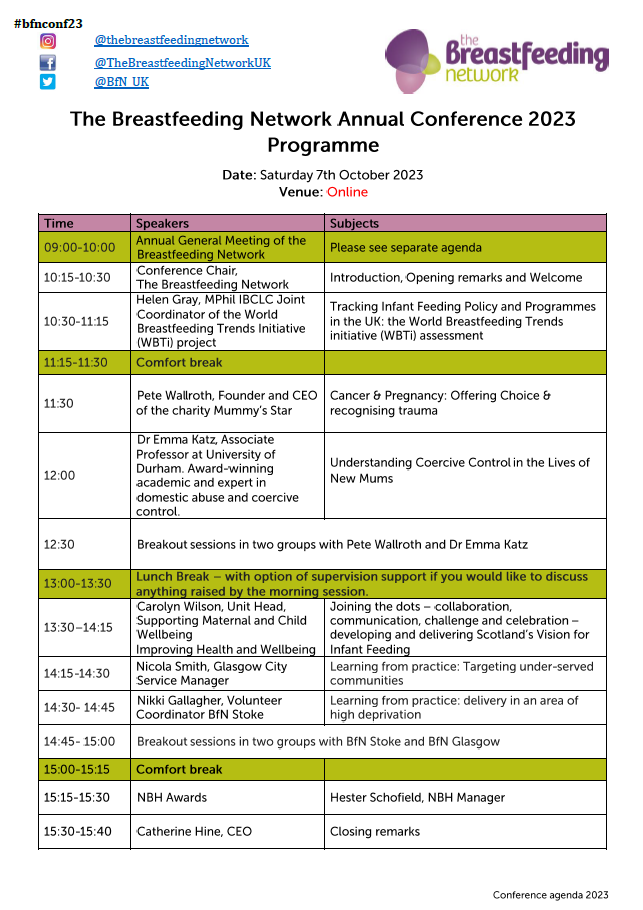 Please note, if you attend the full conference day, it counts as a study day – a great way to get two things done at the same time!
Replay Ticket prices (all tickets include a booking fee):
BfN staff, member or volunteer (registration must be up to date): £15
Other volunteer peer supporter (including ABM): £15
Friend of BfN or DiBM: £20
Healthcare Practitioner, Doula, Lactation Consultant or similar: £50
BfN AGM details:
Our AGM is a private meeting open only to members of the Breastfeeding Network and Directors. It is an opportunity to find out more about the wider work of the BfN, how we are performing and to vote on key decisions.
The AGM will not be recorded and will not be available to view afterwards. The AGM is FREE for Members to attend, and will take place before the annual conference.
All details regarding the AGM and relevant papers will be made available via email to registered and up-to-date members.