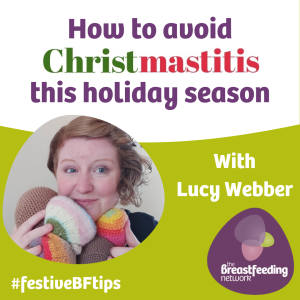 Although this Christmas is likely to be a little different, it's still worth taking into account how you can maintain your feeding "routine" (even if it changes every day!) in among the celebrations. Mastitis is a potentially serious condition resulting from blocked ducts when milk isn't effectively removed from the breast(s). Here, IBCLC Lucy Webber explains how changes in routine can affect your feeding rhythm – and makes some suggestions on how to avoid "Christmastitis."
  Did you know that rates of mastitis go up around holiday periods? Why? Well, loads of reasons to be honest. Let's picture it shall we?   It's your first christmas with your baby. You're mega excited and so is everyone else to have this gorgeous bundle in their lives. Christmas is going to be AWESOME.   Lots of travelling around in the car visiting friends and family, making the most of maternity leave to see everyone and proudly show off this little person, taking up offers to go over and be cooked for! And that is genuinely fabulous. But all that travelling leads to lots of time in the car seat, and for most babies the car seat sends them to sleep. And long sleeps mean long gaps between feeds, which leads to full breasts with potential for blockages…   Then the parties, the gatherings, celebrations! Lovely right?! Yes! Except everyone wants a hold of little baby Rupert and once again he has longer stretches between feeds. And when he does come back to you he's over stimulated and over tired and only takes two minutes on the breast before he falls asleep leaving you with, you guessed it, full breasts….   Or the guests seem to think they know better than you do about baby Josie's feeding cues and tell you she doesn't need feeding, they can settle her for you. They talk about how 'when they had babies you only fed every four hours and it didn't do them any harm'. You're then stuck between a rock and a hard place, because you would like to feed your baby, but you don't want to upset family or the way they did things, and maybe they're right?   Feeds are often cut short around celebrations, because you have lots of people offering to help and hold the baby so your dinner doesn't go cold, or guests arrive, or you're due somewhere, or you're upstairs feeding and want to get back down to the party…the list goes on. So your breasts don't get 'emptied' like usual and can you guess what happens next? Yep….   Maybe you don't feel comfortable feeding around Auntie Ethel and Uncle Bernard, so you don't quite expose your breast as much as you might normally, and your clothes/bra are digging in a little and restricting milk flow and cause a blockage…   Maybe you're sleeping somewhere different, the bed is different, you can't quite get the angle of the feed right on this squishy mattress and the latch goes a bit dodgy, but you put up with it because you don't want the baby to cry and wake everyone. Dodgy latch leads to breast not emptying efficiently…and you know the rest.   Christmas is lovely, but for a huge amount of people it's also very stressful. Stress hormones can impact on oxytocin, which is the hormone needed to let your milk flow. So stress can temporarily inhibit milk flow leading to those full/blocked breasts again.   I might be coming across as a bit Bah, Humbug! but I've been around enough mothers with mastitis to know its REALLY not what you want to be dealing with at any point. It is not to be messed with, it is a serious condition and you can potentially end up very poorly.   What I'm saying is, take it EASY. Plan ahead now to make sure this holiday season is one where you can feed whenever and wherever you need to. Be led by your baby. Don't stretch out or cut short feeds.   Listen to your body, not Auntie Denise.    
You can find out more about mastitis, what to look out for and how to avoid it, in our factsheet here.
This post was originally published on Lucy Webber's social media feeds and is reproduced here with her permission. You can find her on Facebook and Instagram.