Nina White, BfN Programme Manager
Every year, BfN release a survey to help us see what we are doing well, where we can improve and also give us the evidence we need to help secure future funding.
This year, the survey was live throughout March 2019 and we received 572 responses. Thank you to everyone who shared the survey link and encouraged people to complete the survey. We were pleased to be able to send BfN travel mugs to 10 lucky winners from the prize draw.
Responses to the survey came from: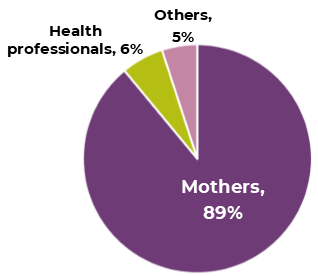 – 89% mothers
– 5% health professionals
– 6% others
Of these, 36% were supported by the BfN Drugs in Breastmilk Service and 12% from the National Breastfeeding Helpline.
Matching last year's results exactly, 64% of this year of mothers contacted BfN because they were experiencing breastfeeding problems.
Once again – the most popular topic of discussion with BfN Peer Supporters was positioning and attachment for feeding, with more than half of mothers struggling with painful breasts and nipples. The next three common topics were frequency of feeding, baby's weight gain and expressing milk. Nearly half of mothers asked for information about medication/medical intervention and impact on breast milk/ breastfeeding. We hope we were able to ensure all these mothers were able to continue feeding their babies if they wished to, since many reported being told to stop breastfeeding unnecessarily.
We asked a variety of 'before/after' questions and were delighted with the answers, which proved the value of peer support:
61% agreed they had the information needed to make decisions about feeding their baby before contact with BfN, rising to 95% after support from BfN.
45% of mums could breastfeed without pain before contacting BfN, increasing to 80% after support from us.
Once again, more than half of the mums questioned (54%) claimed BfN supported them to breastfeed for longer than they otherwise would have done. Reasons given for this included evidence based information about medication, information about attachment, expressing milk, managing blocked ducts and mastitis, meeting other like-minded mums and knowing what is 'normal' newborn behaviour. There were also lots of comments about general support, building confidence and encouragement.
90% of mums said they felt listened to, that their choices were respected, they were not pressured to do one particular thing and that the support/information they received was specific to them.
98% of mothers were satisfied with the support they received from BfN and 98.5% would recommend us to family or friends.
We feel that these results help to demonstrate how important the support we offer to families really is – and how appreciated our volunteers and staff are.