Bump Buddies is our antenatal support project for pregnant women and their support network. The project is run by the Breastfeeding Network Ayrshire & Arran, working in partnership with our NHS colleagues. Sessions are hosted by trained BfN Peer Supporters offering antenatal sessions, extended support and information on all things infant feeding and bonding with your baby.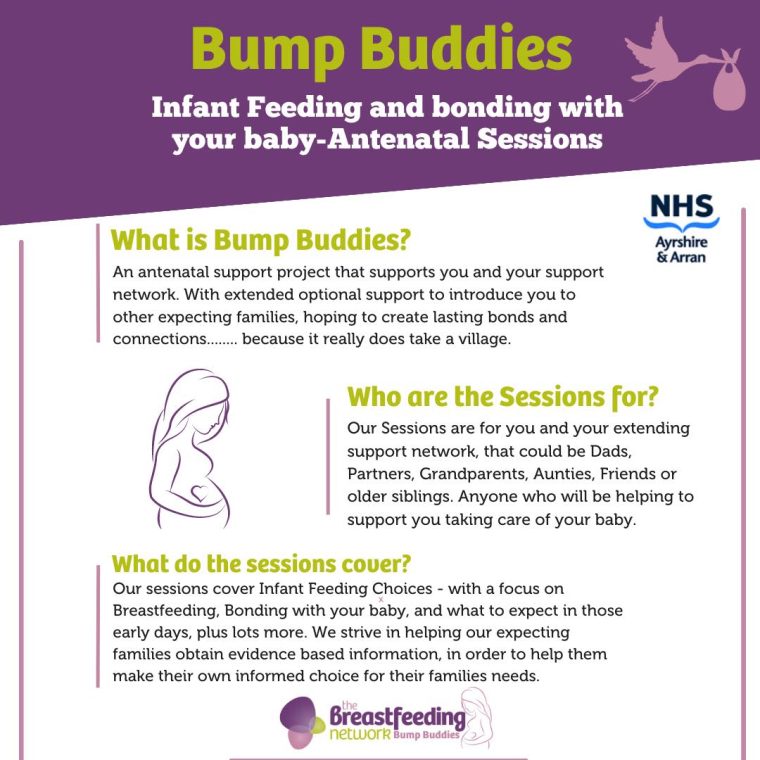 We deliver 3 antenatal sessions, covering a range of topics including:
Infant feeding choices (with a focus on breastfeeding)
Bonding with your baby
What to expect in the early days
Babywearing
plus lots more!
We also provide optional extended support, offering the opportunity to develop lifelong friendships with other expectant families.
To register interest in our antenatal sessions, click on the relevant link below:
Keep an eye on our social media for more information and dates.
We work in collaboration with Ayrshire's Integrated Infant Feeding Team. Therefore, if you choose to provide breastmilk for your baby, you will be supported by a community Peer Supporter from the Integrated Infant Feeding Team who will be in touch within 48 hours after your leave the hospital. Find out more info about this service here.