1997
The founder members of BfN were trained volunteer Breastfeeding Supporters working for a UK charity. That organisation accepted money from a manufacturer of powdered baby milk. The founding members resigned in protest – but wanted to be able to go on providing support for breastfeeding women in their local communities and throughout the UK. The Breastfeeding Network was set up, with a constitution which ensures that we remain independent of commercial influence.
---
January 1998:
Development of the model for BfN training – a 6 week 'taster' Breastfeeding Matters course, followed by the longer Breastfeeding Matters More course. Trained tutors declared readiness to start training new Breastfeeding Supporters for BfN.
---
May 1998:
Production of the first BfN leaflet, 'Breastfeeding and Thrush', albeit in a photocopied format.
---
October 1998:
Supporterline was launched. Read more on What is Supporterline?
---
November 1999:
A suite of new leaflets was launched:
'Breastfeeding and Thrush', in its new printed form
'Breastfeeding and Mastitis'
'Training'
'Membership and Information'
During 1999 there were more than 1900 calls to Supporterline!
---
October 2000:
Invitation from the Baby Friendly Initiative steering group to send a delegate to help give the perspective of women in this important initiative.
During the year 2000 more than 4000 calls had been made to Supporterline.
---
2006:
Registration of BfN Training courses for Open College Network Accreditation.
During 2006 over 20,000 calls were made to Supporterline.
---

2007:

The Breastfeeding Network celebrated 10 years of providing independent breastfeeding support and information.
---
2008:
The Department of Health granted funding for The Breastfeeding Network to run the National Breastfeeding Helpline, working jointly with the Association of Breastfeeding Mothers.
Two Breastfeeding Network Tutors were seconded to work in the Department of Health as Infant Feeding Best Practice Adviser.
---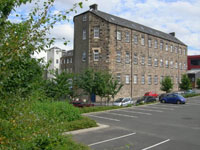 2011:

BfN administration moved into our first office premises in the Abbeymill Business centre in Paisley.
---
2012:

Mums Milk Run raised funds and celebrated the 15th birthday of BfN.
The number of BfN registered breastfeeding volunteers (Helpers and Supporters) reached , and passed, 1000.
---
2013:
The BfN published the 50th edition of the members' newsletter, and later on the first electronic issue.
The 2nd Mum's Milk Run event took place.
Our first CEO, Shereen Fisher was appointed.
---