Over the last five years, volunteers on the National Breastfeeding Helpline have spent more than 18,000 hours on the phone, supporting mums and their families.
The helpline is open 9.30am-9.30pm, 365 days a year on 0300 100 0212, offering non-judgemental, independent, evidence based, mother centred support and information on any aspect of breastfeeding.
At a time when many local breastfeeding support services are being cut or closed down completely, the National Breastfeeding Helpline provides an even more essential lifeline to families who aren't able to access breastfeeding support.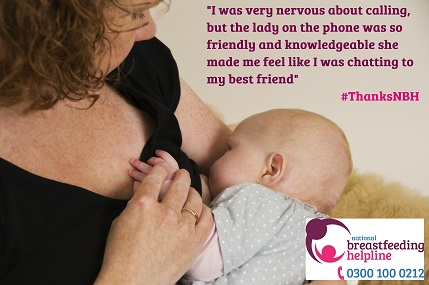 All calls are answered by volunteers, all of whom are mums who have breastfed, and all have been trained by either the Breastfeeding Network or the Association of Breastfeeding Mothers.
To celebrate the work of the National Breastfeeding Helpline and its amazing volunteers, we are asking anyone who has called the helpline to tell us about their call – how it made them feel and if we were able to offer useful support. We have a short survey at bit.ly/ThanksNBH where callers can provide us with anonymous feedback about their call.
Here's a just a few of the responses we've had so far:
"I was desperate before I called, thinking that stopping was the only solution. After the call I felt hopeful again and got practical tips on positioning."
"I rang when my baby was about 6 weeks old. She is now 15 months and still breast feeding."
"I was so close to stopping when I rang but continued for another 16 months."
"I called when my young son refused a couple of feeds I grew extremely anxious, more so due to being home alone with a screaming, hungry baby acting out of character. A lovely lady answered the call, reassured me and made some suggestions. Soon got little one breastfeeding again."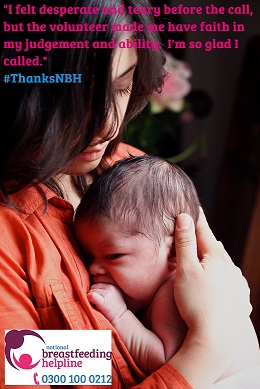 "I was very desperate – my baby was a few days old and wouldn't latch, I had tried my health visitor and midwife and although they were nice, essentially the advice was to give him a bottle which I really didn't want to do. I strongly suspected a tongue tie. The volunteer was very kind and supportive, and reassured me that I was doing the best I could. She gave me suggestions for positioning which really helped (for example ensuring babies head has free movement), and also suggested how I could go about getting the tongue tie assessed and dealt with. I felt a little relief after the call and more hopeful that I would be able to carry on breastfeeding, I was very glad that I called."
100% of respondents to our survey so far have said they were satisfied or very satisfied with the service provided and 100% also said they would recommend it to a friend.
The National Breastfeeding Helpline is funded by the Office for Health Improvement and Disparities and the Scottish Government.