Thank you to everyone who shared their breastfeeding story, you can read some of them below including stories from  author and illustrator, Mairi Hedderwick and Olympic champion Dame Sarah Storey

Share your own story here.
Celebrity Stories
Mairi Hedderwick is the author of the popular Katie Morag series of books which we have always loved for their positive depictions of breastfeeding as a part of family life, we spoke to Mairi about those lovely illustrations and breastfeeding…
BANNED!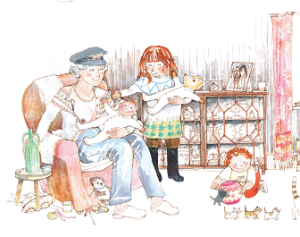 When I created Katie Morag in the early '80s my indulgence was to celebrate our early family years on the Hebridean island of Coll, with all the highs and lows of family life in a small remote community sans electricity and mains water, daily activities so conditioned by the weather. Oil lights and water from the well no longer feature in the books as Katie Morag's island has rightly come into the 20th century. But her relationships, especially in her family, are timeless.
I had been an illustrator for many years, learning how to enhance others' text. With limited text for my first picture storybook I created visual subplots full of detail for the reader to explore and question. In the third book Katie Morag and the Tiresome Ted, all about sibling rivalry on the arrival of the new baby, it was a delight to milk the opportunity to have the mother breastfeeding. I loved drawing the delicate pointillism surrounding her nipple.
My editor at that time was nervous at such exposure but I insisted. She was proved right as several libraries banned the book from their shelves. But 27 seven years on, Mrs McColl's breast is still there to be shared by all babies, toddlers , children, mums and dads. Even teenagers.
Over the years I have been delighted that several breastfeeding organisations have used the image, and others, for publicity. Several surgeries in Highland region in Scotland display posters with Katie Morag, the new baby and 'the breast'. Katie Morag is very proud.
---
The Breastfeeding Network had a chat with Dame Sarah Storey, the UK's most decorated female Paralympian, and asked her to share her story of being a professional athlete and breastfeeding mum to her daughter, Louisa…
BREASTFEEDING AND BEING A PROFESSIONAL ATHLETE!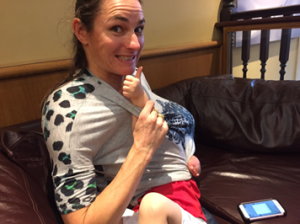 In the early days it was about training and competing around Louisa and setting my schedule according to her needs. I exclusively breastfed for six months and I fed on demand too. As an athlete this fitted in fine and I just adjusted my training rides so that in the early days I did two short rides a day or stayed on the home trainer so that I could be on hand if I was needed. I did a lot of expressing so there was always milk for when I was out, but Louisa was never really interested in taking the bottle and would go back to sleep until I arrived home!Click to read more
---
Helen's story
Helen shares her two very different feeding stories – at home with her first son, and in an NICU unit with her second, who was born with Hypoplastic Left Heart Syndrome, a congenital heart defect.  Her experiences have led her to set up the website www.heartmummy.co.uk which aims to help healthcare professionals to better support breastfeeding in a paediatric setting. You can read more of Helen's story here
---
Charlotte's story
It was such an achievement for me, being able to breastfeed my children after months of initial struggle. It is definitely one of the most emotional experiences I've ever been through, as well as being something I am proud of and grateful for. I have learned that breastfeeding is different with each child – not just the feeding itself, but how it works within family life. For example, you can't sit quietly feeding your second baby for hours when you're looking after a toddler as well. You have to adapt and change the way you feed to fit in with your family and work life.
---
Emma and Kathryn's story
Emma shares her emotional story of feeding her premature baby in a neonatal unit after experiencing a traumatic birth. Read more
---
Samantha's story 
Before I had my little girl I had decided that I would give breastfeeding a good go. Stating to anyone that asked that I would try it but if it didn't work out then I wouldn't put pressure on myself. Read more
---
Jenna and Connor's story
My son was born in July 2013 and throughout my pregnancy, I had spoken about breastfeeding with my midwife after I was given a Bump to Breastfeeding DVD to watch. I mentioned that it was something I would definitely like to try. Read more

---
Jemma's story about getting support from the BfN
Just been to my little one's development check, he's 2 yrs old today, and the wonderful Becky was there. I met Becky at a Children's Centre in West Bromwich when he was just 1 day old!! I knew his latch wasn't right as I was in too much pain too soon, so I went to my nearest BfN session as I was determined to breastfeed this little one till he decided otherwise.  Read more

---
Sam's story of feeding and tongue tie
My mother breast fed all her children so it was a concept that I was used to. However, when I was pregnant I made a pact with myself that I was not going to stress, and that included the thought of breast feeding and what happened if "it did not work". I was relaxed about the fact that I would pop it (i didnt know the gender) on the bottle. Read more
---
Nicola's story
Before I had my baby I felt sure I would not feel comfortable breastfeeding and never felt as though it was an option.  When I was pregnant there was a lot of information about the benefits of breastfeeding your baby when first born.  I made the decision to try and breastfeed in the hospital and see how it went. Read more
---
If you have enjoyed reading these stories please share your own and help us support more families and donate by texting ABFN10 £3 to 70070