BfN training is open to all women who have breastfed their babies and enables women to gain skills, knowledge and experience to support breastfeeding in their communities.
There are two stages of training:
BfN Helper Course (Peer Supporter)
By completing the course you can hope to achieve:
The knowledge to support other new mums with breastfeeding.
A nationally recognised, Open College Network accredited qualification.
Work experience and up-to-date references to apply for a job in the future.
Opportunity to continue training to become BfN Registered Breastfeeding Supporter.
Funding permitting, training should be free to trainees and may include a crèche facility.
BfN Registered Breastfeeding Helpers (peer supporters) and can volunteer in a variety of different ways: in BfN Breastfeeding drop-in groups, in hospitals, schools and in antenatal classes. You may be able to visit mums who live near you.
BfN Supporter Course
BfN Registered Breastfeeding Helpers may go on to do a second stage of training. On completion you become a BfN Registered Breastfeeding Supporter gaining skills to work independently and offer phone support on Supporterline and on the National Breastfeeding Helpline. All BfN volunteers receive regular supervision and ongoing training to maintain the quality of their work.
There is full information about our courses for mothers in our Training Leaflet.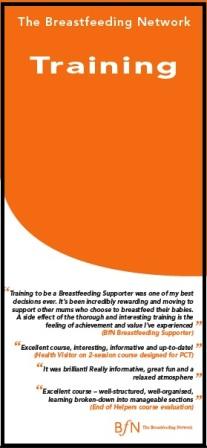 If you have other questions you will find the answers in our Breastfeeding Training Frequently Asked Questions.
Availability of Training
Courses accepting applications just now are listed here. If there is no course listed for your area at present, please click here to go to our Peer Support Projects page where you can view individual project pages and contact details.
If your area is not listed it is unlikely that we are currently offering training near you. We are developing new courses, including online training, and information will be made available here on the website and on social media so please keep checking back. If you would like to tell us more about why you would like to train please complete this form to register your interest.
We will keep these details on file and we will try to let you know of any new courses that may be of interest. Any information you provide will be handled in accordance with our Privacy Policy.
If you are interested in commissioning a course for up to 12 trainees please email peer-support-training@breastfeedingnetwork.org.uk or call us on 0844 412 0995.
Finding Alternative Training
In areas where BfN is not able to offer training you may be interested in the following:
Other organisations who provide training include