So you want your business to be breastfeeding friendly for customers?
As you are reading this it is likely that you are already convinced of the benefits of being a breastfeeding friendly business, so we can cut to the chase.
What can you do on your own business premises?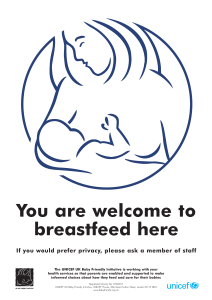 You can put up signs to ensure everyone knows it is breastfeeding friendly (there are a variety of copyright free templates online).
Develop a policy to protect the interest of staff and customers.
Train staff to protect the mother's right to breastfeed.
Are there pre-existing schemes can join?
Whether there is a local breastfeeding welcome initiative depends on where you live. Some of the areas which have schemes running at the moment are:
The NCT scheme is currently available in the following NHS areas: Camden;
Central London (Barnet, Hammersmith & Fulham, Kensington & Chelsea and Westminster),
Islington
Tower
Bromley
Lewisham
Wiltshire
Bath and North East Somerset
South Tees (Redcar & Cleveland, Middlesborough)
North East London & City (City and Hackney)
There is also a National list
If you have spotted omissions or changes the website maintenance team would be happy to hear from you by email.
What would I need to do to join a scheme?
If you join a scheme you may be asked to show that:
Breastfeeding is acceptable in all areas open to the public.
You do not ask any mother who is breastfeeding to move or to stop breastfeeding.
You tell all staff about the Scheme and how to be supportive of the needs of breastfeeding mothers.
Your display signs and symbols that make it clear that your premises is breastfeeding welcome.
You may also wish to:
Provide comfortable seating.
Provide free fresh water to drink.
Have a written breastfeeding policy.
Agree to be reviewed by local breastfeeding mums.
Train your staff to welcome and support breastfeeding mothers.
Provide an optional  private area that is  clean and comfortable, with a chair, clearly signposted for breastfeeding and near (but not in) a baby changing area or toilet.
Provide a few toys or books for older children.
Ensure that your own  staff are supported if breastfeeding while in your employment.
How do you train your staff to support breastfeeding mothers?
Staff training should  include:
Being aware that any breastfeeding mother should be treated the same way as other patrons.
How to dealing with complaints from other customers (these may never occur!).
You might also wish to:
Fill them in on social, emotional, health  and financial reasons for breastfeeding.
How do I write a breastfeeding policy for my business?
A written breastfeeding policy is a statement that you will protect the interests of any nursing couple on your premises.  How much detail you wish to go into about how you will do this is up to you.
If you do write a policy it is important to communicate it, and the reasons why you have written it, to all your staff, regardless of age and gender.