Choose your challenge – set and achieve your own goals! Join our Mums' Milk Run Team 2019!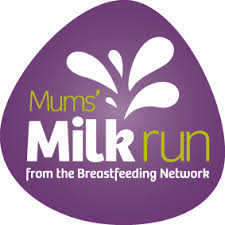 This year we're focusing on participation and self-care so this time we want you to set your own goals for our Mums' Milk Run in May 2019.
You can pledge to do whatever you like to help us raise awareness and funds to support our work. For example, you could choose to walk or run 10k, 20k or 50k over the month, or whatever distance you want. You could choose to swim a total of 5k, take part in 10 exercise classes, cycle 20 miles, horse ride five times, skip for a minute every day of the month – anything that is active, fun and challenging but achievable for you.
In return, you can also choose your own reward from the following options:
A unique (and useful!) Mums' Milk Run trolley coin keyring
Nothing – other than the satisfaction of knowing you are supporting the Breastfeeding Network and a special thanks from us for your efforts!
Plus, everyone who takes on a Mums' Milk Run Challenge this year will receive a special certificate to say thank you for getting involved. You will also receive a discount code giving you 10% off a BfN running vest which you can order from our online shop.
You can also choose whether or not you would like to fundraise for us. Your entry fee helps us cover the cost of running the event and raises a small amount of funds but if you would like to help us raise more to allow us to continue supporting even more babies and families we would be very grateful. You can do this in a variety of ways:
Make an additional donation when you sign up
Set up your own individual Just Giving fundraising page
Fundraise locally and transfer the money to us after the event
Ask your supporters to text BFNRUN to 70085 to donate £3. (This costs £3 plus a standard rate message)
The cost of taking part in the event is £10 and you can sign up here.
Please share your challenges and your progress with us on social media using #BfNMumsMilkRun2019 and tag us – Twitter – Facebook – Instagram
Places are limited so please sign up quickly to guarantee your place on our Mums' Milk Run team 2019!