Join us for the Mums' Milk Run!
Every spring we run our annual fundraising event Mums' Milk Run and invite volunteers, staff, friends and supporters to take part and help us raise funds to support the work we do across the UK. This year is our 20th birthday year and we have set a challenging overall fundraising target of £20,000 and we are hoping around £5000 of that will come from the Mums' Milk Run event so we are hoping lots of people get involved. If you need more information about fundraising for the BfN have a look at our Fundraising for BfN guidelines.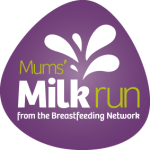 Recent research in the Lancet says 'Success in breastfeeding is not the sole responsibility of women – the promotion of breastfeeding is a collective societal issue' and we want to help women and families across the UK have access to a community that is supportive of breastfeeding, either in their local area, via social media or by using the helplines to speak to a mum who knows about breastfeeding.  We need you to help us support more families have access to a supportive community by organising or taking part in our Mums' Milk Run events across the country and fundraising for us.
The Mums' Milk Run is all about being active, having fun and raising money. You can walk, run, swim, cycle or Zumba (or any other activity you enjoy!) and you can do it as an individual or as a group of volunteers. Get your community involved by inviting local friends, family and neighbours to take part as well.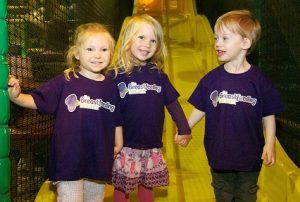 Setting up and running local events can help raise awareness about breastfeeding and the BfN and show that your community supports breastfeeding families as well as giving you a chance to highlight your local Breastfeeding Welcome scheme or the support available to breastfeeding families in your area. You can find out about events in your area here.
As this is our 20th Birthday year we will have a '20' theme to events, so maybe you could set up a 20m toddler dash at a family fun day, have a treasure hunt or orienteering activity looking for 20 clues or do a 20 minute family walk (about 1 mile at average walking pace!) We have lots of resources to help you plan and run your event below.
For the first time, this year we are also holding a virtual run! You can sign up for either the 20k or 20 minute option and everyone who signs up will get a very special BfN 20th birthday medal. You can do your run all in one go, or anytime between 1st – 20th May.  If you are feeling competitive you can also email us evidence of how far you ran in 20 minutes or your 20k time and there will be prizes for the top runners.
We would love to hear about any events you have planned and please share you pictures using #mumsmilkrun2017