The BfN Annual Conference is an exciting and informative event for our volunteers, parents, families and health professionals with an interest in breastfeeding and related topics. 
Due to the unprecedented events of 2020, and in the interests of everyone's safety and wellbeing, we have decided to move our conference online for the first time ever.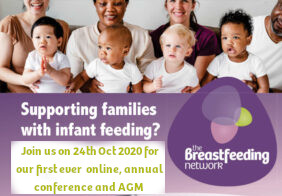 This years event will take place on Saturday 24th October 2020 and we have another fantastic list of speakers lined up including:
Dr Suzanne Zeedyk – Early years attachment
Hollie McNish – A reading of selected poetry
Dr Lisa J Orchard – Social Media and breastfeeding
Tisian Lynskey-Wilkie – UK racial health inequalities in maternity and Black Breastfeeding issues
Gill Rapley & Tracey Murkett – Weaning and cultural response
Professor Helen Ball – Sleep, Baby and you – Evaluation findings
The conference will start around 11am following the AGM but this time will be confirmed.
Conference Costs
Current registered BfN members and staff – FREE
Friend of BfN/Friend of DIBM – FREE (subscription costs £20 or £25 respectively and can be purchased here)
Other volunteer peer supporter (including ABM volunteers – see below), parents and others  – £30 (rising to £35 from 28th Sept)
HCP/Doula/Lactation Consultant – £40 (rising to £45 from 28th Sept)
Registration for BfN members is free. If you would like to make a voluntary contribution towards the costs of running this event there is also an option available to do so.
Friends of BfN and DIBM also qualify for free entry. If you are not currently a Friend, subscription costs £20 or £25 and can be purchased here.
We are also offering complimentary tickets to members of ABM, our partners on the NBH. Please contact ABM for details of how to obtain your free place.
Not able to make it on the day?
If you are not able to join us live on the 24th October there will be an option to watch after the event. Please register as normal and you will be sent more information closer to the time.
13th AGM of the Breastfeeding Network
The AGM 2020 will also be held as an online event this year. This will be a private meeting open only to members of the Breastfeeding Network and Directors. The AGM will not be recorded and will not be available to view afterwards.  The AGM will take place before the conference, and will start around 9.30am.
The final agenda and papers will follow but the AGM will include the following standard items: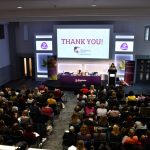 Presentation and adoption of the annual report for year ending 31st March 2020
Presentation and adoption of the accounts for year ending 31st March 2020
Election of Directors
Membership fees
In addition, the NBH awards virtual ceremony will take place during the AGM – not to be missed!
How to book
The AGM and the conference will be set up as separate events with different links to view, therefore if you wish to attend both events you need to make two separate bookings.
To book a place at the AGM please follow this link https://www.eventbrite.co.uk/e/13th-annual-general-meeting-of-the-breastfeeding-network-tickets-116584997867
To book a place at the conference please follow this link https://www.eventbrite.co.uk/e/the-breastfeeding-network-annual-conference-2020-tickets-114862741552
Accessibility and online access
The main presentations of the annual conference will have an option for subtitles.
If you would like to talk to us about how we might be able to support you in any other way to access the AGM or conference please email centralsupport@breastfeedingnetwork.org.uk or call 08444 120 995.
If there are any other queries about the AGM or annual conference please contact agm@breastfeedingnetwork.org.uk
Updated 16/09/2020