We know that up to 20% of women are affected by mental illness either during pregnancy or in the 12 months after giving birth. These can include anxiety and depression, postpartum psychosis and post-traumatic stress disorder (PTSD) resulting from birth trauma or caring for an ill baby.  Any of these can have a profound affect on breastfeeding and it is so important that families can access support at this difficult time
http://www.centreformentalhealth.org.uk/falling-through-the-gaps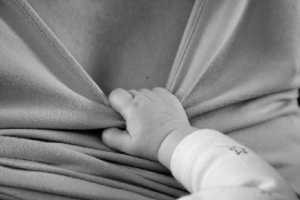 Levels of care and support for women affected by perinatal mental illness vary widely across the UK – there are areas where there are great support networks in place and others where there is nothing.
Many tragic cases of perinatal mental illness have been highlighted by the media and it is shocking that suicide is one of the leading causes of death amongst women during pregnancy and in the year after birth.
Many mums hide how they are feeling and worry about what might happen if they seek help.
At the Breastfeeding Network we are in contact with, and support thousands of new mums every year. We work in a mother-centred way and are committed to supporting mothers however they feed their babies. We know that around 15% of the calls our Drugs in Breastmilk information service receives are related to mental health issues. Many mums tell us they have been told to stop breastfeeding in order to take anti-depressant medication, but the evidence shows this is unnecessary in many cases, and there should be careful consideration of the impact that stopping breastfeeding before the mum is ready might have on the mum's mental health.
There is evidence that breastfeeding can have a preventative effect on mental illness developing. A large scale research study published in 2014 showed that mothers who planned to breastfeed and who actually went on to breastfeed were around 50% less likely to become depressed that mothers who had not planned to, and who did not, breastfeed. Mothers who planned to breastfeed but who did not go on to breastfeed were over twice as likely to become depressed as mothers who had not planned to, and who did not breastfeed.
Research also shows that more than 3 in 5 women stopped breastfeeding earlier than they wanted to. This shows the importance of providing good quality breastfeeding support and evidence based information on the safety of anti-depressant medication for mums who do want to breastfeed.
We have detailed, evidence based, information sheets on anxiety and breastfeeding, feeling depressed and breastfeeding, feeling anxious and breastfeeding, OCD and breastfeeding, Bipolar disorder and breastfeeding and postnatal depression treatments and breastfeeding. These are written by our qualified and highly experienced pharmacist and can be downloaded or printed out to discuss with your midwife, health visitor or GP.
You can call the National Breastfeeding Helpline which is open from 9.30am-9.30pm 365 days a year on 0300 100 0212 to talk to a trained volunteer, who is also a mum who has breastfed.  The helpline also welcomes calls from partners, family members and friends.
To access the blog on perinatal mental health published by Public Health England use the below link
https://publichealthmatters.blog.gov.uk/2015/12/09/perinatal-mental-health-how-can-our-new-interactive-tool-help/
Other sources of support if you are worried about perinatal mental illness – in yourself or someone around you:
ASSOCIATION FOR POSTNATAL ILLNESS
http://apni.org/
Maternal Mental Health Alliance
http://maternalmentalhealthalliance.org.uk/
http://everyonesbusiness.org.uk/
SAMARITANS
http://www.samaritans.org/
If you are on Twitter, search for #PNDChat, #PNDHour and #birthtraumachat  to find a supportive community organised by @PNDandMe http://pndandme.co.uk/
Page last updated June 2021