As of the 1st July 2017, the BfN Star Buddies project in Blackpool is unfortunately no longer in operation due to the decision by Blackpool Council not to recommission the project. If you live in the area, alternative breastfeeding support can be accessed via your midwife or health visitor, or by calling the National Breastfeeding Helpline on 0300 100 0212.
The details on this page are for information only, to celebrate the great work that the Star Buddies project achieved in the decade between 2007 and 2017.
Star Buddy peer supporters in Blackpool deliver a universal peer support programme for all breastfeeding mothers and work closely with midwives, health visitors and childrens' centres.
The support provided is mother centred, so that women are enabled to make their own informed infant feeding decisions without pressure or judgement.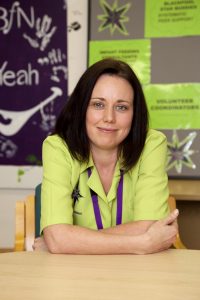 All breastfeeding is valued, even if just for one feed or one day, so that women are supported to appreciate what they have achieved. At the same time, Star Buddies, having breastfed themselves, provide role models for breastfeeding in an area where the culture is entrenched bottle-feeding.
The Star Buddies contribute to safer bottle-feeding by ensuring that mothers who introduce infant formula or stop breastfeeding have information about different milks, sterilisation and preparation.
The proactive nature of the service enables early recognition of a wide range of issues so that early intervention can be enabled with appropriate signposting and referral to a range of local services.
Regular reflection on their work with a trained supervisor helps ensure continual development of skills and recognition of boundaries.
The service:
Star Buddies deliver infant feeding workshops at childrens' centres and at weekend hospital parentcraft sessions.
They engage in meaningful conversations with pregnant women and partners at antenatal clinics in target areas.
Bedside support is provided for all mothers who initiate breastfeeding in hospital with a dayshift every day and an evening shift on weekdays.
There is a dedicated neonatal Star Buddy, plus a team of volunteer Neonatal Peer Supporters, who support women in the neonatal unit.
Work is undertaken with the Diabetic Midwife to implement antenatal expressing of colostrum.
Star Buddies provide ad hoc support on the delivery suite, midwifery led unit and the paediatric ward.
The community Star Buddy team offers 1:1 support at home for 8 weeks and beyond for all mothers who initiate breastfeeding. This support is provided 7 days a week.
Star Buddies run breastfeeding groups where women share experiences and can talk through any issues with a Star Buddy. Groups often have discussion topics.
A Volunteer Coordinator manages a team of 20 volunteers who work in groups, in the hospital, in antenatal clinics and help man the National Breastfeeding Helpline, which runs 9.30am to 9.30pm 7 days a week.
Star Buddies help sign up and audit businesses for the Welcome to Breastfeed scheme (Facebook page 'Mum's milk on the go').
Star Buddies support the Baby Friendly accreditation in both the hospital and the community.
Feedback about Blackpool Star Buddies
I wasn't sure if I wanted to breastfeed but decided to give it a go. It was the best decision and the support from my Star Buddy was invaluable. My daughter and I were in hospital for 11 days and I looked forward every morning and evening to the visit from the Star Buddy. I always had questions for them. I don't think I would have managed to carry on breastfeeding without their support. The Star Buddy gave me helpful advice and emotional support. They gave me the time that the midwives were too busy to give. Amazing service.
 A brilliant service. My Star Buddy was fab and very helpful. She rang me loads to see how I was getting on and came round when I needed her. Overall very pleased with the help I received over the 2 weeks. Without the help of latching on right and positioning of baby I don't think I would have lasted. It's good to know that someone is there to help and explain things.   Thanks for all your help.
 I found the Star Buddy service both in the hospital and community very helpful. Knowing that I could access support if I needed it was a big comfort. I am positive I would have stopped breastfeeding by now if I hadn't know support was there should I need it. It gave me confidence knowing that I had support when needed. Although I knew who I could speak to during the day I wasn't sure who could help me at nights/weekends and bank holidays….
I nearly stopped breastfeeding after the first few days but my Star Buddy really helped me get back on track. I got mastitis, so stopped for a few days but with the help of my SB I am now doing both and only using one breast. My SB was brilliant and I can't thank her enough, if it wasn't for her I would have stopped. I feel brill and think the service is amazing. I wish the service was going when I had my first 17 years ago.
 My Star Buddy was a lovely woman very helpful, especially when I brought baby home and one of my other children developed chicken pox. My Star Buddy gave me the little push to keep trying to breast feed when I didn't think I would be able to produce any milk for my baby. She encouraged me to keep going even when I was bottle feeding. The encouragement, friendly chatter and advice helped me to carry on breastfeeding. I think this is a great service and should be kept going for new mums, young mums and experienced mums alike. My partner thought this was a great service as it gave me help and advice when needed and I had someone to talk to about sore breasts and breast milk
 My Star Buddy was always there with advice and support when I needed her. All I had to do was leave her a message and she would get back to me as soon as possible. My Star Buddy was fab; she was only a text away. Breastfeeding has always gone well for me and my baby. I love feeding my baby knowing I'm giving him the best I can.
 Absolutely fantastic support from my Star Buddy, I would have given up without her support and reassurance. It's such a shame that the service wasn't around when I had my daughter 8 years ago.
The Star Buddy peer support programme in Blackpool has been evaluated by researchers at the University of Central Lancashire and the following papers have been published:
Thomson, G., Crossland, N. & Dykes, F.  (2012). Giving me hope:  Women's reflections on a breastfeeding peer support service.  Maternal & Child Nutrition, 8(3), 340-53.
 Thomson, G., Dykes, F., Hurley, M.A., & Hoddinott, P.  (2012). Incentives as Connectors':  perceptions of women and peer supporters participating in  a Breastfeeding Incentive Intervention  in a disadvantaged area of North West England.  BMC Pregnancy and Childbirth, 12 (22), doi:10.1186/1471-2393-12-22
Aiken, A. & Thomson, G.  (2013). Professionalization of a Breastfeeding Peer Support Service:  Views and Experiences of Peer Supporters.  Midwifery 2013 http://dx.doi.org/10.1016/j.midw.2012.12.014i
The Blackpool Star Buddy peer support service is also featured on the NICE shared learning website as an example of implementation of NICE guidance:
Systematic and integrated peer support service for breastfeeding mothers in Blackpool:
The Blackpool Star Buddy peer support service also featured in a talk given by Mary Whitmore at the UNICEF (UK) Baby Friendly conference in Belfast in June 2013 and at the UNICEF (UK) Baby Friendly conference in Glasgow in November 2013..
The slides from the presentation 'Peer Support – passion into practice' are available on the Baby Friendly website
http://www.unicef.org.uk/BabyFriendly/Health-Professionals/Conferences/Past-conferences/