This October spend time relaxing, on your own, with family, friends or colleagues then enjoy some tea and cake (or alternative healthy options) – and any money you raise will help make sure more families can continue to access evidence-based information on the use of medication while breastfeeding.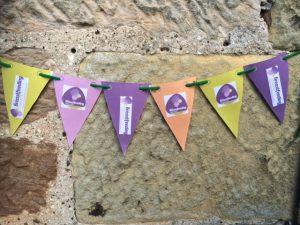 The Breastfeeding Network's Big Tea Break is an annual fundraising event running between the 1st and 31st October 2019, raising money for our Drugs in Breastmilk information service. An evaluation carried out by Dr Amy Brown in 2019 described the service as "A lifeline when no one else gives you an answer".
"The Drugs in Breastmilk information service was set up more than 20 years ago by the Breastfeeding Network and has been funded by the charity ever since. It was established in response to reports of many breastfeeding women receiving inconsistent or inaccurate advice from some health professionals when they were prescribed a medication or procedure. This service enables them to access the latest evidence-based information on risk, from an experienced pharmacist."
The demand for the service has increased every year and we now receive on average 550 emails per month from health professionals and families. We also have a very busy Facebook page @BfNDrugsinBreastmilkinformation which receives around 600 requests for support every month.
The service doesn't receive any external funding so we rely on fundraising and donations to keep the service running.
The theme this year is around mindfulness and relaxation, which can be particularly useful postnatally to help reduce stress and to support mental health and general wellbeing.
To that end, we have produced a "Moment of Calm" guided relaxation podcast. You can use this as part of your event (as an individual or a group) to create a calm atmosphere and take five minutes to relax.
We have also developed a FREE FUNDRAISING PACK which you can download below. This provides numerous resources to help you plan and run your event. Events can be run by individuals or groups. All you need to do is think about when and where you would like to run your event, think about what you would like to do and how you might be able to raise some money along the way.
Why not hold an event for friends and family as a chance to bring everyone together and raise money while you have a relaxation session and share some tasty treats?
You could also organise a Big Tea Break event at work for your colleagues and have cake for them to buy to go with their tea.
If you are a BfN volunteer or a peer supporter with another organisation then maybe you could hold a BfN Big Tea Break event as your next volunteer meet up or supervision session?
Donate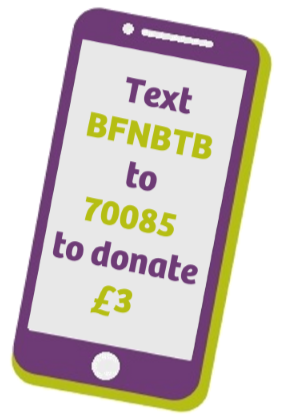 Even if you are not able to take part in our event, you might like to make a donation to support our fundraisers and our DIBM information service. You can view our JustGiving campaign page here or you can make a BACS transfer direct into our bank account, with the reference BTB2019. You can also send a donation by text. To donate £3, text BFNBTB to 70085. This costs £3 plus a standard rate message. Or you can give any whole amount up to £20 by texting BFNBTB 5 to give £5, BFNBTB 10 to give £10 and so on.
What happened to the virtual run?
We know some people really enjoyed this over previous years. If you would like to challenge yourself to an activity during October we would love to hear about it. You can use the link in the fundraising pack to register your event and you can use any of the resources to help you raise some money for our DIBM service along the way.
We hope to be back next year with a re-vamped virtual run event ahead of the Mums Milk Run in May so please watch this space!
Free Fundraising Pack
Before your event
On the day